Buy TW Designworks products designed by Teresa Wentzler.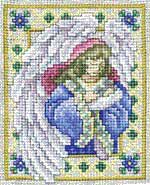 Cross Stitch Chart (pdf)
Release date: February 2003
Stitch count: 62H x 49W
Sample shown: Stitched over-2 on 28-count antique white Lugana from Zweigart®
Stitched by: Lindsay Latham
This angel was designed for The Angel Quilt Project.
Description: A small angel design with border, featuring a pastel colorway designed totally in full cross stitches.
Comments by Teresa Wentzler:
Background Information: James Farmer, the founder of The Angel Quilt Project (formerly known as The Angel Afghan Project) contacted me over a year ago and asked if I would consider designing an angel for the Project. I agreed to do so, and also to name the design after one of the Project's members who had recently passed away. Unfortunately, I did not have the honor of knowing Jeanne Love, but I hope her contributions of time, dedication and service to The Project will be remembered well as people stitch this design. As Jeanne was a mother, I decided that the image of an angel holding a child in her arms was an appropriate tribute.
Stitching Comments: This design is small and simple. Since it's designed completely in whole stitches, it will adapt easily to being stitched on any evenweave fabric. Although it was designed to be stitched on larger weave afghan fabrics, it could also be stitched on finer count linen and finished as an ornament.
Pattern Errors/Corrections: none
Pattern © by TW Designworks. Reproduced with permission from Teresa Wentzler. PurpleKittyYarns.com is not endorsed by TW Designworks.
This is a complimentary chart, which means you may photocopy it. You may stitch it as many times as you'd like. However, since TW Designworks retains ownership of the copyright, you may not sell this chart, or profit from it in any way. It is not permissible to contract production of projects made from designs published by TW Designworks to a third party for sale or distribution.