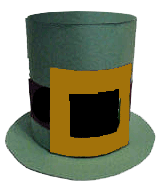 Your child may enjoy wearing a leprechaun hat on St. Patrick's Day. They'll need the following items:
1/2 gallon round ice cream container, clean and dry
4 pieces of green felt
1 piece of gray felt
1 piece of black felt
1 yard of green ribbon about 1/2" wide
Scissors
Ruler
Black permanent marker
Tacky glue or hot glue gun
Hole punch
Large circular object (however wide the felt is)
Place the green felt on the table with the ice cream container on top. Trace around the container with a black marker and then cut the circle out. This is then glued to the bottom of the container.
Glue another piece or two of green felt to the sides of the container to create the hat.
Using a hole punch or scissors, punch two holes (opposite each other) directly under the lip of the container.
Find another circular object a little larger than the ice cream container. Trace around this onto another piece of green felt to create the brim of the hat, and cut the circle out.
Place the body of the hat (ice cream container) into the center of the larger circle. Trace around the container and then draw another line about 2 inches toward the center to create a donut shape.
Make tabs by cutting from the center of the hole to the line all the way around the circle. These tabs will be glued inside the container to hold the brim on. (If you're using hot glue for this step, run small amounts of glue at a time to be able to work the tabs onto it before it hardens.) Punch holes in the felt over the holes under the lip of the container to be able to run ribbons to hold the hat on.
Cut a 2-inch wide strip of black felt. You may need to cut two to ensure the black goes all the way around. Glue the band onto the green felt and trim off any excess.
Cut a 4-inch square out of grey felt. Remove the center of the square to create the buckle. Glue this to the black band.
Cut the ribbon into two pieces. Thread these through the holes and tie a knot in them. Tie the hat to the child's head.