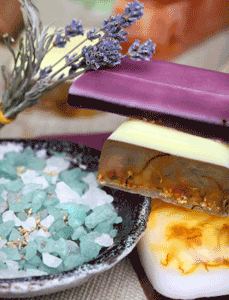 Even though it may not seem like a craft, making homemade bath salts is an activity kids will enjoy. There are so many recipes you can find in books, magazines and on the internet. However, to get you started, you can make this winter wonderland bath salt.
You'll need the following items for this recipe:
1 cup Epsom salts
1 cup baking soda
10 drops blue food coloring
1/4 cup of fine silver glitter
15 drops lavender essential Oil
10 drops sandalwood essential Oil
10 drops sweet orange essential Oil
2 sealable jars or containers
To make two cups of bath salt, begin by putting the salt and baking soda in a bowl and mixing it thoroughly. Add the different essential oils and mix again. Slowly add the food coloring, one drop at a time.
Other Bath Salts Recipes
Citric Bath Salts
1/2 cup baking soda
1/4 cup citric acid
1/4 cup cornstarch
3/4 tsp essential oil
2-3 drops of food coloring (optional)
Sea Salts
1/4 cup epsom salts
1/8 cup baking soda
1/8 cup sea salt
10 drops of essential oil
Oatmeal Bath Salts
1 C. borax
1/8 C. kelp powder
1/8 C. finely ground oatmeal
1/8 C. sea salt
Foot Soak Bath Salts
2 cups of epsom salt
2 cups of sea salt
1 cup of baking soda
1/4 ounce of lavender essential oil
1/4 ounce of tea tree essential oil
40 drops of peppermint essential oil
Whichever homemade bath salts recipe you try, remember to mix everything together really well and break up any clumps that might form. Store your homemade bath salts in a jar or air-tight container. Then get ready for a luxurious, relaxing bath!