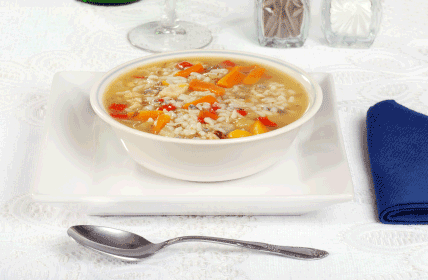 What You Need:
1 Turkey carcass
4 quarts water
3 large onions, finely chopped
3 celery ribs, finely chopped
1/4 cups uncooked long grain rice
1 cup butter
1-1/2 cups all-purpose flour
1 pint half-and-half
3 cups cooked turkey, diced
1/2 teaspoons poultry seasoning, optional
salt and pepper to taste
How to Make It:
In a large Dutch oven cook the carcass and water to make 3 quarts of stock. Remove any bones and save the meat. Strain the stock and set aside for later.
In a saucepan combine the celery, carrots, onions, rice and 1 quart of the stock. Cook for 20 minutes. Remove from heat and set aside. In a large Dutch oven or stockpot melt the butter and add in the flour and heat until it is bubbly.
Add the remaining 2 quarts of stock and the half-and-half; cook and stir until bubbly. Stir in the vegetable mixture made earlier and also add the turkey and seasonings to taste. Heat soup slowly until heated through.