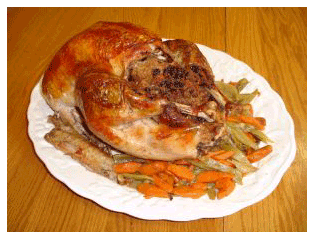 What You Need:
1 (12 lb.) whole turkey, thawed
6 tbsp. butter, divided
4 C warm water
3 tbsp. chicken bouillon
2 tbsp. onion powder
2 tbsp. parsley, chopped fine
2 tbsp. seasoning salt
1 tsp. pepper
How to Make It:
Prepare the turkey by removing the giblets and rinsing the turkey in cold water.
Use paper towels to dry the turkey well.
Separate the skin from the turkey meat on the breasts by inserting your finger and carefully lifting the skin up to make a pocket.
Place 3 tbsp of butter under the skin on each side.
Place the oven temperature on 350 degrees and allow the oven to preheat.
Place the turkey in a large roasting pan being sure the breast side is facing up.
Pour the water into a large mixing bow.
Sprinkle in the bouillon, onion powder and parsley being sure to mix well to combine.
Pour the mixture over the top of the turkey.
Sprinkle the turkey with the season salt and pepper.
Cover the turkey tightly with aluminum foil.
Bake 3 hours 30 minutes basting the turkey with the juices in the pan every 30 minutes.
Remove the aluminum foil and continue roasting for 45 minutes.
The turkey skin should be golden brown and the internal temperature of the breast meat should be 170 degrees when the turkey is done.
Remove from the oven and allow the turkey to stand 30 minutes before carving.
Serves 12
Placing the butter between the skin and the meat helps the meat to stay moist during roasting. It also helps with the browning of the skin when the turkey has not been basted with oil.