Let's get a hand count. How many people have oak trees in their yard? Do you also have an abundance of acorns? These acorn craft ideas will give you something to do with all those acorns the squirrels miss when the colder months creep up on them.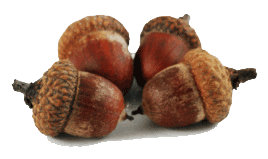 Acorns can be used in a number of fall and winter crafts. With Thanksgiving coming up soon, you can use acorns to help decorate your holiday table. You can also create garlands and other items to decorate your home.
An 'Acorny' Family
Gather up a bunch of acorns from your yard or a nearby park. Try to pick up only the acorns with the tops still on them. You can also purchase wooden acorns from a craft store. If the tops come off while you're transporting the acorns, use a little bit of craft glue to put the tops back on.
Find enough acorns for each person in your family for this first craft. You'll also need to have some acrylic paints, paint brushes, a sharp pencil and possibly six or more inches of heavyweight thread.
Paint the bottom half of the acorn using a flesh-tone or light brown paint. While this is drying, paint the top or cap of the acorn your favorite color. You would then do the same thing with enough acorns for your family, making the cap of each acorn that family member's favorite color.
When the acorn is dry you can paint a face on it using a detail paintbrush or a very sharp pencil dipped in the paint. Add other embellishments such as little bows for a girl's hair or painted pearls for mom. You could even make acorn animals by gluing on pieces of paper for the ears. These are particularly cute for couples who don't have children but have 'fur babies.'
Allow the acorns to dry thoroughly and either set them in a bowl, near family pictures or glue string on them to hang them as ornaments. Another thing you can do is create an acorn person for each person who is attending Thanksgiving dinner. Glue their acorn on a folded piece of business card stock and write their name on the card so everyone knows where to sit.
Wreaths
If you have a wreath to place on your front door, tie acorns onto a piece of raffia. Next tie the raffia into a bow and glue that to the wreath. You can also hot glue the acorns in groups of three around the wreath. Then use other fall items like baby's breath, silk leaves and berries to fill out the wreath.
Picture Frames
How many old picture frames do you have which you would like to update? Create autumn frames by gluing acorns onto the picture frame. To dress the picture frames up a little bit, dry brush gold or copper paint on the frame and acorns. Once the picture frame is completely dry, place the picture back into the frame and group them in one area as a photo display.
Acorns are normally in abundance in the fall and it really is a shame to throw them away. In the spirit of trying to recycle and reuse, these crafts will help you do just that. By making one or more of these acorn craft ideas you can use the acorns and decorate your home at the same time.