Mmm, turkey. Fall, with its holiday season, is typically when turkey recipes come in handy since turkey is a staple of Thanksgiving and Christmas holiday celebrations around the world. Browse through these turkey recipes and try something different this year. Or anytime throughout the year!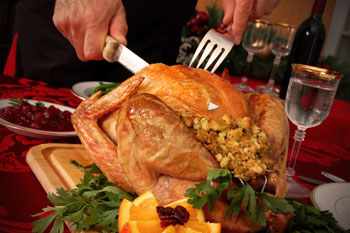 Turkey Cooking Tips
For a juicier turkey, soak it in brine for at least 12 hours before cooking. You can make a simple brine by combining ice water and sea salt. After seasoning the turkey, submerge it fully, cover, and leave to sit for 12-24 hours. Then, cook the turkey as usual. Not only does the turkey come out juicier, but it tends to have more flavor than un-brined turkeys.
Don't try to squeeze your turkey into a roasting pan. Never try to cook your turkey in a roasting pan that is too small. If it is touching the sides of the pan, the bird will steam, not roast. Place a rack in the pan that will raise the turkey so that hot air will circulate around it. Don't forget to line the bottom of your stove, in case of any drips.
Be careful if you are stuffing your turkey. When you place the stuffing in the cavity of your turkey, it should always be loosely packed. This will ensure even cooking. When the turkey is done, insert a thermometer into the body cavity. The stuffing should register 165 degrees at minimum. If the stuffing isn't properly cooked, remove it from the bird, place in a baking dish, and continue cooking in the oven.
Cover your turkey with foil during cooking and uncover for the last 30 minutes to brown the skin.
The only way to find out if your turkey is properly cooked is by using a meat thermometer. Insert the thermometer into the inner thigh muscle, but don't touch the bone. The temperature should be between 180 and 185 degrees. The juices should run clear, not pink.
Leftover Turkey Recipes
Looking for some ideas for all that leftover turkey from the holidays? Cooked turkey freezes beautifully, as does stuffing. When making a big holiday meal, be sure and make plenty so you not only have enough for turkey sandwiches, but to enjoy another turkey dinner in a month or two, without all of the work. Turkey doesn't need to go to waste with these yummy leftover turkey recipes.
Turkey Salad
Turkey Soup
Turkey and Squash Tacos
Grilled Turkey Sandwiches
Leftover Turkey Rice Dish
Turkey Reuben Sandwich
Turkey Pot Pie