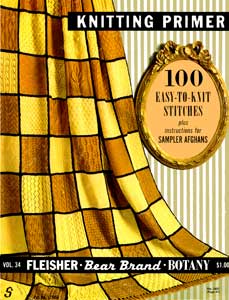 Approximate Size 60 x 76 inches
Afghan illustrated is made of 2 shades of Gold and Black.
MATERIALS: BEAR BRAND, FLEISHER'S or BOTANY Twin-Pak TOWN 'n COUNTRY, 3 oz. packs
Light Color - A - 7 packs
Dark Color - B - 9 packs
Joining Color - C - 2 packs
KNITTING NEEDLES: 1 Pair each "Boye" Needles, Sizes 8 and 9.
"Boye" Crochet Hook, Size F (4)
Design your own Sampler by selecting any 63 pats., or follow chart below.
To personalize your afghan include Pattern Square No. 50, on which to embroider an initial in duplicate st, see alphabet chart.
Work 32-squares, including Pattern Square No. 50 with A,-31 squares with B.
As each square is completed, with same color and care to keep work flat, from right side beg. at upper left corner, work 1 row sc around entire square, having 30 sc evenly spaced along each edge plus 3 sc in each corner. Join round with sl st in first st. Break yarn.
NOTE-It is important to have same number of sc on each square.
From right side, with C work 1 sc in each st around square, 3 sc in each corner. Join with sl st in first st. Break C.
Block squares to measure 8 ½ x 8 ½ ins., see page pattern book page.
Arrange squares, alternating colors as illustrated, having 9 squares in length-7 squares in width, with Pat. No. 50 in lower left corner.
From wrong side, with C and care to keep seams elastic, join squares by sewing through top loops only.
FRINGE-Wind B around a 3" cardboard. Cut at one end. Knot 3 strands in every 3rd st across upper and lower edges of afghan. Trim ends evenly.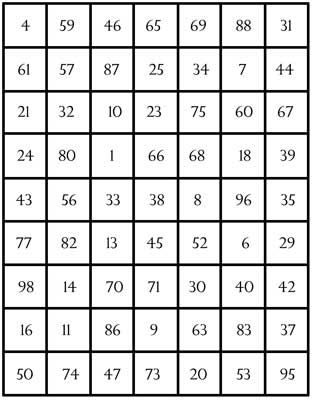 Other great patterns from Knitting Primer, 100 Easy-To-Knit Stitches, Volume 34:
Pattern © 1968 by Bernhard Ulmann. Reproduced with permission from Plaid. PurpleKittyYarns.com is not endorsed by Plaid.