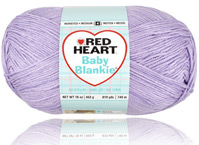 All it takes is just one irresistibly soft and cuddly ball to make a perfect blankie for the perfect baby! The six classic baby colors will match any sweet nursery. No-dye-lot solids and easy care make this the one to choose for any baby project. One ball does it all!
100% Acrylic
16 oz (453g)
819 yds (749 m)
Machine wash warm, gentle cycle, tumble dry low.
This item not currently available.