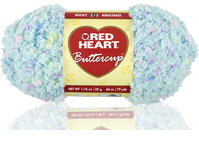 Super soft and snuggly, Buttercup is the ultimate baby yarn! Tiny pom-poms of color blended with a fleecy yarn make it squeezably soft in the ball and even better when knit or crocheted. Perfect for baby booties, sweaters, blankets and toys.
67% Polyester / 33% Nylon
1.76 oz. (50 g)
72 yds. (66 m)
This item not currently available.