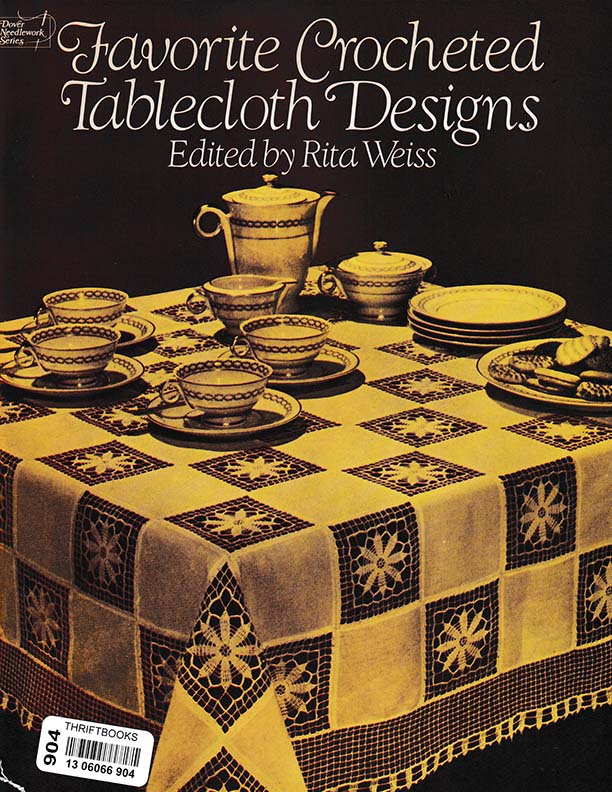 Paperback: 48 pages
Publisher: Dover Publications (May 1985)
Language: English
ISBN-10: 0486248739
ISBN-13: 978-0486248738
As a backdrop to sparkling crystal and the lustre of fine china, exquisitely wrought crocheted lace tablecloths create an unforgettable effect of traditional opulence. With this long-awaited treasury, sure to thrill all lovers of fine handwork, needlecraft expert Rita Weiss has revitalized this magnificent, time-honored craft. More than 20 of the best patterns, gleaned from rare instructional booklets of over 30 years ago, now enable modern needleworkers to recreate glorious lace table coverings of a bygone era.
The airy elegance, delicacy, and intricacy of design unique to crocheted lace is captured in such stunning designs as Orange Blossom, Mile-A-Minute, Blue Hills, Cathedral Windows and more. Each beloved pattern is shown in sharp photographs and accompanied by clear directions. Other useful information, such as hook, stitch, and metric conversion charts, descriptions of standard stitch abbreviations, and practical advice on finishing and blocking, round out this unusual collection.
The range of patterns included in this rich sourcebook will delight needleworkers. You will proudly display these masterpieces of crocheted lace on your own table, and cherish the products of your handiwork for years to come.