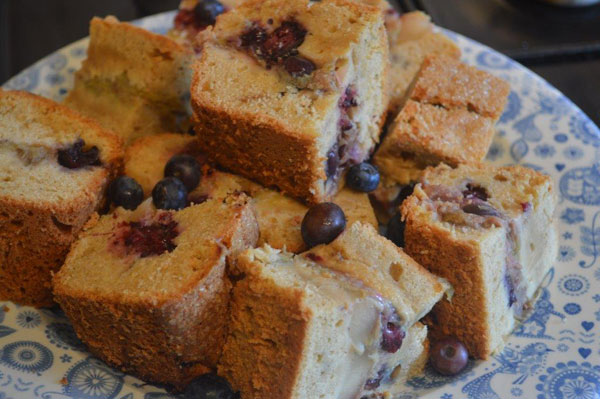 This is so delicious, and we have added an extra twist – custard inside the traybake to give it that lovely 'oozy' texture inside. This traybake is really yummy with coffee or afternoon tea, but also in a lunch box. Once cool, you can reheat and serve with cream or ice cream, or more custard!
Serves: 16-20 pieces
Preparation Time: 15 minutes
Cook Time: 30 minutes
INGREDIENTS:
9 oz butter
5 oz caster sugar
3½ oz dark brown sugar
4 large eggs
1 tsp vanilla extract
12½ oz self-raising flour
2 tsp baking powder
1 tsp cinnamon
7 oz rhubarb
10 oz Bramley apples, peeled, cored and thinly sliced
3½ oz berries, such as blackberries or blueberries
4 oz ready-made pouring custard
1 oz Demerara sugar
METHOD:
Preheat the oven to 350°F/180°C/Gas mark 4. Butter and line a rectangular baking tin (approximately 11 in x 8 in) with baking paper.
Poach the rhubarb with a little sugar for approximately 5 minutes.
Place the butter, caster sugar and dark brown soft sugar into a large mixing bowl and beat for 2-3 minutes until smooth. Add the eggs and vanilla and continue to beat for 2 minutes. Finally add the flour, baking powder and cinnamon and beat briefly to combine.
Spread half the mixture into the prepared tin. Arrange half the apples, half the rhubarb and half the berries over the top of the mixture, drizzle with half the custard, and then repeat the process. Before baking, sprinkle over the Demerara sugar.
Bake for 45-50 minutes until golden and springy to the touch. Leave to cool for 10 minutes, then turn out of tin and remove paper. Cut into bars or squares before serving.