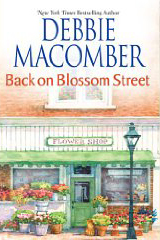 Product Description
Mass Market Paperback: 448 pages
Publisher: Mira Books; Illustrated. edition (March 1, 2008)
Language: English
ISBN-10: 0778325350
ISBN-13: 978-0778325352
Customer Reviews
Other Editions
Kindle Edition
(What's Kindle?)
Hardcover

Audiobook
There's a new shop on Seattle's Blossom Street—a flower store called Susannah's Garden, right next door to A Good Yarn. Susannah Nelson, the owner, has just hired a young widow named Colette Blake. A couple of months earlier, Colette had abruptly quit her previous job—after a brief affair with her boss. To her dismay, he's suddenly begun placing weekly orders for flower arrangements!
Susannah and Colette both join Lydia Goetz's new knitting class. Lydia's previous classes have forged lasting friendships, and this one is no exception. But Lydia and her sister, Margaret, have worries of their own. Margaret's daughter, Julia, has been the victim of a random carjacking, and the entire family is thrown into emotional chaos.
Like everyone else in Lydia's knitting class, Alix knows there's a solution to every problem…and that another woman can usually help you find it!