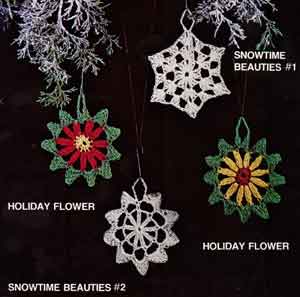 Thread Colors:
Green, red, yellow or white
Crochet Instructions:
This pattern is worked in continuous rounds. Do not chain and turn. Designate red and yellow or white as first and second colors.
Using first color, chain 6, sl st to join. (6)
Round 1: 12 hdc into center of ring, sl st to join. (12)
Round 2: Using second color, ch 3, 2 tc in same st (carry last loop of each st until all 3 are finished, then draw all 3 sts off at once). * Ch 3, 3 tc in next st, repeat from * around 10 more times, for a total of 12 petals. Sl st in third st of first chain to join.
Round 3: Using green, sl st sc under chain between first and second petals, 1 sc, 1 hdc, 1 dc, 1 tc, ch 8, 2 tc, 1 dc, 1 hdc, 1 sc, all under same loop 8 chains will make hanger). * Continue 1 sc, 1 hdc, 1 dc, 2 tc, 1 dc, 1 hdc, 1 sc between each petal, repeat from * around. Break off and fasten, weaving ends in.
Shaping Instructions:
See General Instructions for pinning and spraying. Pin flat and round, defining all outer points. Shape hanger up and open. Spray and dry.
Other great patterns from Christmas-Time Crochet, Book 7317:
Pattern © 1979 by Plaid Enterprises, Inc. Reproduced with permission from Plaid. PurpleKittyYarns.com is not endorsed by Plaid.