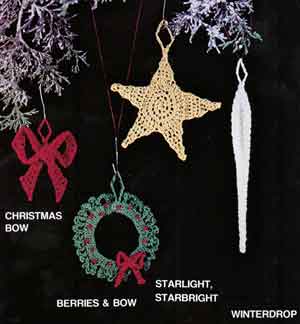 Thread Color:
White
Crochet Instructions:
This pattern is worked in continuous rounds. Do not chain and turn. Always use the top loop of every st throughout pattern.
Chain 4, sl st to join. (4)
Rounds 1-16: 2 sc in first st, continue 1 sc in each st around. (5) (6) (7) (8) (9) (10) (11) (12) (13) (14) (15) (16) (17) (18) (19) (20)
Rounds 17-19: 1 sc in each st around. (20)
Rounds 20-21: * 1 sc in each of next 2 sts, skip third st, sc in next st, repeat from * around. (15)
Round 22: Sl st every other st around until opening is closed, (8) (4) (2) (0) ch 10, sl st back into top of icicle, break off and fasten, tucking ends.
Shaping Instructions:
See General Instructions for pinning and spraying. Lay ornament flat and pull up a third ridge (or fold) down center front, forming a 3-sided shape. Icicle has 3 ridges at top half, fading into an unridged 3-dimensional trian¬gle shape toward bottom. Shape chained hanger into a diamond or other open shape. Spray and let dry.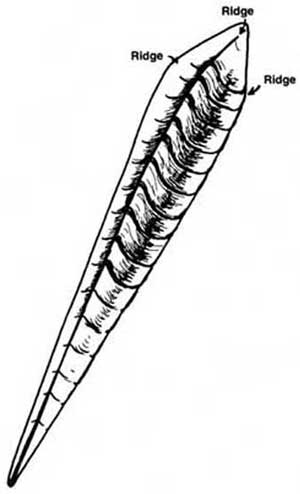 Other great patterns from Christmas-Time Crochet, Book 7317:
Pattern © 1979 by Plaid Enterprises, Inc. Reproduced with permission from Plaid. PurpleKittyYarns.com is not endorsed by Plaid.