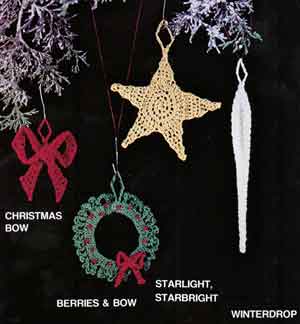 Thread Colors:
Green, red
Crochet Instructions:
This pattern is worked in continuous rounds. Do not chain turn. Always use the top loop of every st throughout pattern.
Using green, ch 8, sl st to join. (8)
Rounds 1-37: 1 sc in each st around. (8)
Round 38: Sl st openings at each end together, shape round and flatten. Working on the top of ring, ch 6, 1 sc in each st, repeat from ch 6, 1 sc in each st, working around outside edge of wreath, around to start; ch 10, sl st back into top of ring, for hanger.
Ribbon. Using red, ch 40, turn, 1 sc in each st across; break off and fasten. Weave ends into chain. Tie this piece in a bow and stitch onto wreath.
Berries. Using red, make French knots, scattered around wreath.
Shaping Instructions:
See General Instructions for pinning and spraying. Pin wreath round and flat, pinning outside loops outward to their full extent. Shape width of bow loops wide at outside, separate bow tails distinctly. Shape hanger up and open. Spray and dry.
Other great patterns from Christmas-Time Crochet, Book 7317:
Pattern © 1979 by Plaid Enterprises, Inc. Reproduced with permission from Plaid. PurpleKittyYarns.com is not endorsed by Plaid.