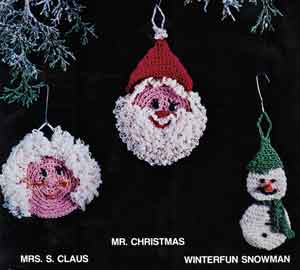 Thread Colors:
Pink, white, small bits of yellow, red, black
Crochet Instructions:
This ornament is not worked as a tube.
This pattern is worked in continuous rounds. Do not chain and turn. Always use the top loop of every st throughout pattern.
Using pink, chain 4, sl st to join. (4)
Rounds 1-3: 2 sc in each st around. (8) (16) (32)
Rounds 4-5: 1 sc in each st around. (32)
Round 6: * 1 sc in each of the next 2 sts, 2 sc in the third st, repeat from * around. (42)
Rounds 7-9: 1 sc in each st around. (42)
Round 10: Using white, * chain 6, turn, 1 sc in same st, working in top loop of outside of head, repeat from * three quarters around head, turn and continue ch 6, 1 sc in same st, of each st three quarters the way around round 8; repeat same for round 7. Break off and fasten, weaving ends in. This is her hair.
Nose. Using pink, sl st sc into center of face, 1 sc in each st 8 times around, making small circle, sl st every other st around until opening is closed; break off and fasten, tying ends together and weaving them in.
Face. Embroider now or after spraying. Use black for eyes - French knots with 3 running stitches above for eyelashes. Outline black eyes with white. Use red for cheeks, using satin stitch in small area on each side of nose. Use red for mouth, outlining it with running stitches. Use yellow and running stitches to embroider glasses (resting on nose, below eyes).
Shaping Instructions:
See General Instructions for pinning and spraying. At top of head, use one of the chains as hanger, by pinning it up and open. Fluff up hair and shape it in "all-over" curls.

Other great patterns from Christmas-Time Crochet, Book 7317:
Pattern © 1979 by Plaid Enterprises, Inc. Reproduced with permission from Plaid. PurpleKittyYarns.com is not endorsed by Plaid.