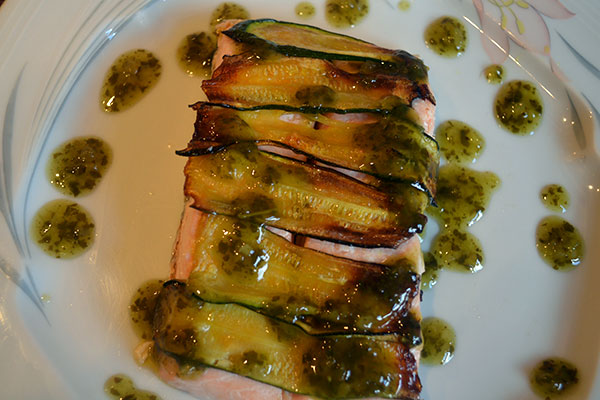 Full of Omega 3 healthy fats and deep in flavor. You can also use white fish such as cod, and you can even try monkfish.
Serves: 4
Preparation Time: 20 minutes
Cook Time: 10-15 minutes
INGREDIENTS:
4 x 6 oz salmon fillets
2 large zucchini, sliced lengthwise on a mandolin or vegetable cutter
Zest of 1 lemon
1½ tsp fresh oregano, finely chopped
1 generous pinch ground black pepper
1 tbsp olive oil
For the dressing
3 tbsp olive oil
Small bunch fresh chives, finely chopped
Salt and pepper to taste
METHOD:
Heat oven to 350°F/170°C/Gas Mark 4.
Make the dressing first by combining all the ingredients together and place in the fridge until required. If you want, you can remove some of the chives by straining through a sieve before serving.
Place a little olive oil, lemon zest, oregano and seasoning in a flat dish and mix together. Lay the zucchini slices in and toss to coat. Leave for 10 minutes to absorb flavor.
Using a board, lay out 4 slices of zucchini flat overlapping slightly along the length. Place a salmon fillet at one end then roll until it is completely wrapped. Continue with the remaining fish fillets.
Roast in a baking dish for 10 minutes, test with a skewer and remove or leave in the oven according to readiness.
If ready, tip over the chive oil evenly and serve.
Al dente broccoli is perfect with this dish, or wilted spinach or seared greens.