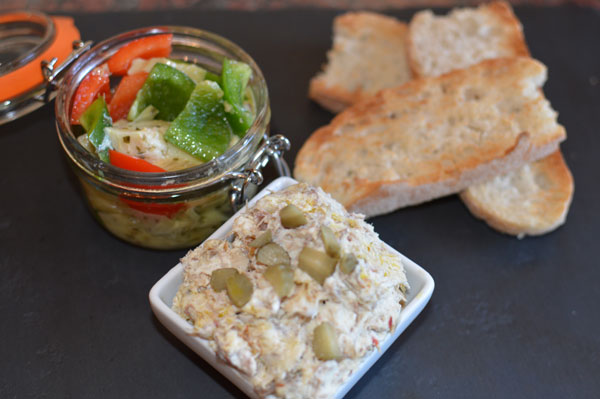 Nothing like a recipe that only takes you 10 minutes and is super-delicious to eat! This recipe is designed for two people, but simply double or treble the ingredients to boost up the numbers if preparing for a party or a starter for a dinner party. Oily fish is extremely good for you – we have served this dish with pickled vegetables which you can buy in jars in the supermarket, or very easy to make yourself when you have time.
Serves: 2
Preparation Time: 10 minutes
NO COOK
INGREDIENTS:
2 medium sized smoked mackerel fillets, skin removed and flesh flaked
3 tbsp of low fat cream cheese, or crème fraiche
1 tsp horseradish sauce
1 tsp Dijon mustard
Juice of ½ lemon
Freshly ground black pepper to taste
3 or 4 cornichons (cocktail gherkins) finely chopped
Thin slices of sour dough or brown bread, lightly toasted
METHOD:
You can use a blender to make the pate if you prefer it smooth, but we prefer to make it by hand for more texture.
Place the mackerel flesh into a bowl and squash with a fork to make a textured paste. Add the cream cheese or crème fraiche, lemon juice, horseradish and mustard and mix rigorously with the fork or a spoon until reasonably smooth. Add pepper to taste. Put the mixture into a smaller ramekin or dish and top with the chopped cornichons.
Lightly toast the bread and serve on the side with pickled vegetables.