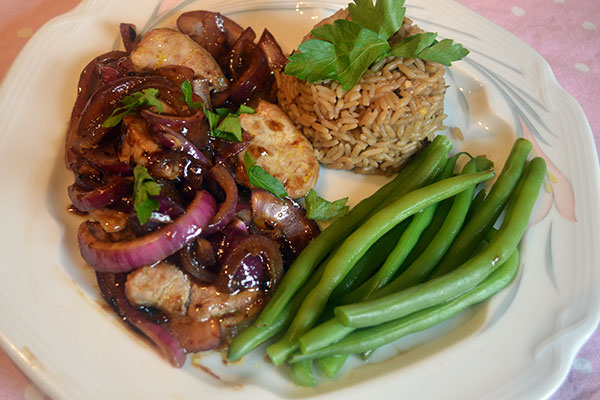 This healthy, main course uses lean pork fillets and takes only 30 minutes from start to finish! You can accompany it with rice or lovely creamy and buttery mashed potatoes and a few green beans – absolutely delicious. Alternatively, it is great for a brunch or lunch served in a long roll with crisp lettuce.
Serves: 4
Preparation Time: 10 minutes
Cook Time: 20 minutes
INGREDIENTS:
1¼ lb pork fillets, cut into approx 1½ inch thick slices
2 tbsp coarse black pepper (freshly ground)
2 tbsp olive oil
1 chicken stock cube
1 large red onion, halved and sliced
5 oz cider vinegar
2½ oz maple syrup
Small bunch parsley, chopped
METHOD:
Season the meat on all sides with the black pepper and some salt.
Heat 1 tbsp of the oil in a large frying pan. Sear the meat on both sides until nicely browned. Remove from the pan and leave to rest.
Add the remaining oil and the onion to the pan and caramelize. Cook for 5 minutes, then pour in the vinegar and let reduce for 1 min. Stir in the maple syrup, crumble in the stock cube, stir then return the pork to the pan and heat for 5 minutes until cooked through. Serve the pork and sauce with the creamy potato or rice and beans. Add some fresh chopped parsley over the potato.
Tip: Add either Dijon mustard (2 tsp) or apple sauce (2 tbsp) to the mash to give it an extra lift and a different taste!