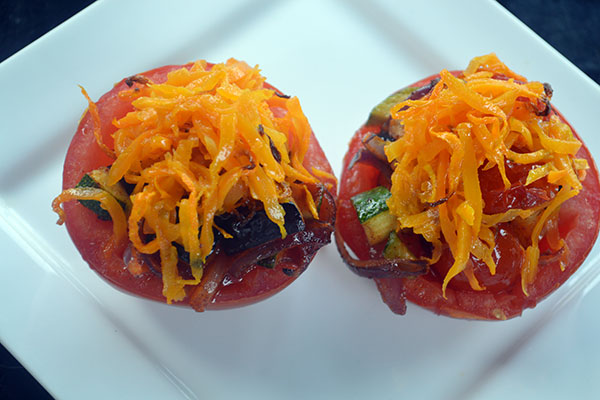 If you have a vegetable slicer, use this for the smaller shreds of veg, or a grater. Combine with small diced vegetables to fill sweet and juicy big beef tomatoes for baking in the oven. This is a lovely and simple to prepare dish for vegetarians or as an accompaniment to grilled meat or fish.
Serves: 4
Preparation Time: 20 minutes
Cook Time: 25 minutes
INGREDIENTS:
4 large (beef) tomatoes
1small red onion, diced
1 small zucchini, sliced with your slicer (thin end) or grated
¼ celeriac, sliced with slicer (thin end) or grated
¼ eggplant, finely diced
4 baby (cherry) tomatoes, halved
A little chili powder to taste
1½ tbsp olive oil
Sprinkling of dried mixed herbs

METHOD:
Heat oven to 350°F/180°C/Gas Mark 4.
Gently soften the onion and celeriac in the olive oil. When softened, add the eggplant and continue to soften. Add sliced zucchini and cherry tomatoes. Mix in the chili power to taste. Leave to one side.
Cut the large tomatoes in half and slice a little off each round end so that they will stand up on a baking tray. Remove the inner core and seeds. Turn upside down on some kitchen paper to drain.
When drained, season the insides with a little salt and pepper, and pile in the vegetable mixture, leaving a little of the celeriac for topping. Place in the oven and bake for 20-25 minutes.