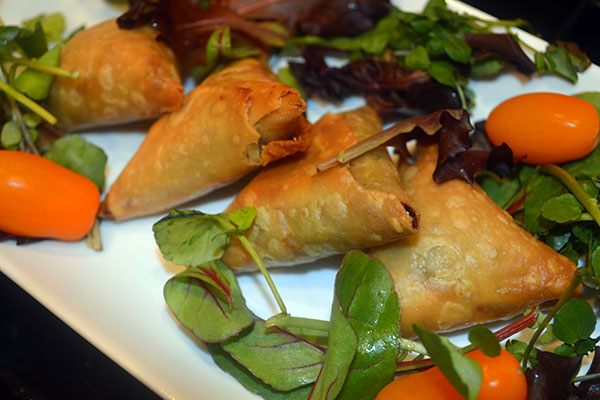 These are delicious little pasties, ideal for a light lunch, served with salad, or even an accompaniment to a curry or as part of a buffet party. Try serving with a little chutney or relish.
Makes: 16
Preparation Time: 25 minutes
Cook Time: 25 minutes
INGREDIENTS:
4 sheets filo pastry
12 oz strong flavored mushrooms, such as field or porcini
2 oz butter, melted
Extra butter for frying
1 shallot, peeled and finely diced
2 garlic cloves, peeled and crushed or minced
1 tsp fresh thyme leaves, chopped
Salt and pepper to taste
2 oz feta or goats cheese (omit this if you are serving with a curry)

METHOD:
Heat oven to 400°F/200°C. Line a large baking tray with non-stick baking paper.
Cook the mushrooms, shallot and garlic in butter over a low heat until tender. Add the thyme and cook for a further 2 minutes. (add cheese at this point, if required).
You can either place this mix in a liquidizer and pulse until fine, or chop the mix yourself so that there is still texture, and not almost liquidized.
Lay a sheet of filo on the work surface and brush with the melted butter. Make sure you keep the other sheets covered with a wet tea towel. Cut into 4 strips.
Place 1 tbsp of the mushroom mix about ½ inch in from the corner and fold over to a triangle shape. Continue folding up and down, keeping the triangle shape. Place on the baking tray.
Repeat the process until you have made all 16 triangles. Brush each triangle liberally with melted butter.
Bake for 20-25 minutes until golden and crisp. Serve on a platter garnished with leaves and chopped herbs, or with a salad for a light meal.