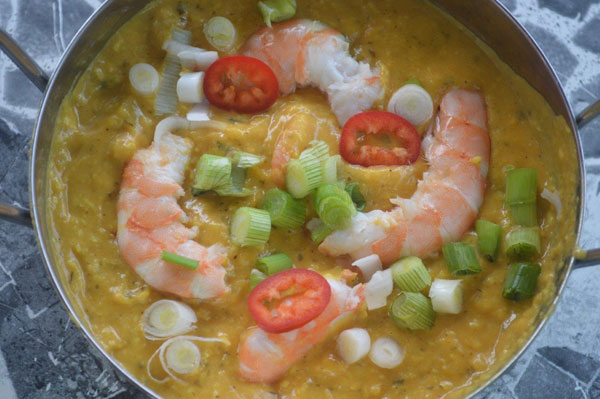 A tasty Brazilian inspired dish from the city of Bahia. It's a kind of shrimp curry, with a sauce made from onions, coconut milk, peanuts, cashews, and thickened with breadcrumbs. Other ingredients also include dried shrimp, which give it a much stronger flavor, and palm oil, which gives the dish its beautiful yellow/orange color, but we have made this simpler using frozen shrimp (you can use fresh). A food processor also comes in handy to grind the nuts, rather than trying to chop them.
Serves: 4
Preparation Time: 20 minutes
Cook Time: 20 minutes
INGREDIENTS:
10 oz torn pieces of white bread
4 oz coconut milk
4 oz roasted, salted peanuts
6 oz roasted, salted cashews
1 pint water or fish stock
2 cloves garlic, chopped
1 lime
1 pound of frozen shrimp, peeled and deveined
1 large onion, chopped
1 red chili pepper, roughly chopped with seeds removed
1 clove garlic
3 tablespoons palm oil, or vegetable oil
Salt and pepper to taste
METHOD:
Soak the bread pieces with the coconut milk for 10 minutes. Place them in the blender (with the coconut milk) and blend until smooth. Set aside.
Grind the peanuts and the cashews in a food processor until finely ground. Set aside.
Bring fish stock or water to a boil. Season with salt and pepper, and add the garlic and juice of one lime. Add the shrimp and boil until pink, about 5 minutes. Remove the shrimp and set aside. Reserve cooking liquid.
In the same food processor, add the onion, chili pepper, and garlic, and process until finely chopped.
Heat the palm oil (or vegetable oil) in a skillet, and sauté onion mixture for about 5 minutes, until soft and golden.
Add the ground nuts to the skillet and sauté a few minutes more, adding a little oil if necessary, until golden.
Add the bread crumb and coconut milk mixture and 1½ cups of the shrimp cooking liquid to the skillet. Cook, stirring, until sauce has thickens, about 5 minutes, adding more liquid if necessary.
Add shrimp to sauce and season with salt and pepper to taste.
Serve warm, over rice.