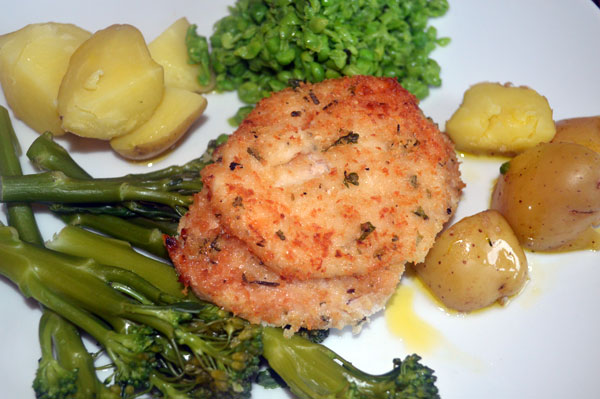 You can use any firm white fish for this recipe such as haddock, cod, or similar fillets that are quite chunky and 1-1½ inches). The thicker the fillet, it will obviously take longer to cook, but this dish can still be ready in 20-25 minutes. The lovely crispy crumb coating is a delightful match to the soft and moist fish hidden below. Great combination of textures.
Serves: 4
Preparation Time: 5 minutes
Cook Time: 10-15 minutes (depending on thickness of fish)
INGREDIENTS:
4 haddock, cod or other firm white fish fillet, approx 5 oz
1 tbsp olive oil
3 oz fresh white or brown breadcrumbs
3 oz mature cheddar cheese, grated
½ tbsp fresh parsley, finely chopped
Small sprig of cherry tomatoes, on the vine (about 5 or 6 tomatoes)
Seasoning to taste
METHOD:
Heat oven to 220°C/425°F/Gas 7.
Lightly spray a shallow baking dish with a little olive oil to prevent sticking, and place the fish on top.
Mix together the breadcrumbs, cheese and parsley with a little seasoning to taste.
Press the crumb coating on top of the fish fillet. Place the tomatoes next to the fish and drizzle with the remaining oil.
Bake for 10 minutes until the crust is golden and the fish is cooked through. Test the center of the fish, and if it is not cooked, cover the dish with foil and return to the oven for a further 4-5 minutes. The foil is used to prevent any burning.
Serve with the tomatoes, tender stem broccoli, crushed minty peas or green beans, and a few baby potatoes for a filling meal.