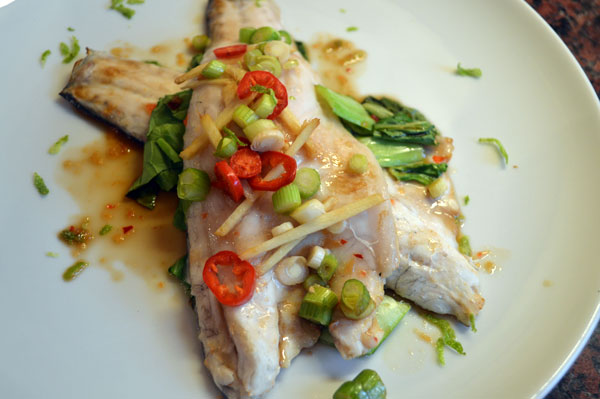 Sea bass is a very light and delicate, but deliciously soft and melt in your mouth fish. We have allocated two fillets per person, but you may find you only want one. The subtle 'oriental style' spicing is a wonderful pairing with the fish. Simply double or treble up on the ingredients for more dinner guests. This dish is really quick to make and healthy too.
Serves: 1
Preparation Time: 10 minutes
Cook Time: 10 minutes
INGREDIENTS:
2 sea bass fillets, about 5 oz each, skin on and scaled
1½ tbsp light sesame oil
Small knob of ginger, peeled and shredded into matchsticks
2 garlic cloves, thinly sliced
1 small fresh red chili, deseeded and thinly shredded
2 or 3 spring onions, shredded
½ tbsp sweet chili sauce
METHOD:
Season the fish with salt and pepper, then slash the skin diagonally three times, trying not to go too deep into the white flesh. Heat a heavy-based frying pan and add 1 tbsp of oil. Once hot, fry the fish, skin-side down, for about 3 minutes or until the skin is very crisp and golden but the flesh is white and glistening.
The fish will be almost cooked through. Turn it over, cook for another thirty seconds or so, then transfer to a serving plate and keep warm. Heat the remaining oil. Fry the ginger, garlic and chili for about two minutes until golden. Take off the heat and toss in the spring onions. Splash the fish with a little sweet chili sauce and spoon over the contents of the pan.
Serve with an Asian salad or mixed salad or some wilted pak choi (you can wilt the pak choi in the same pan along with the ginger etc.)