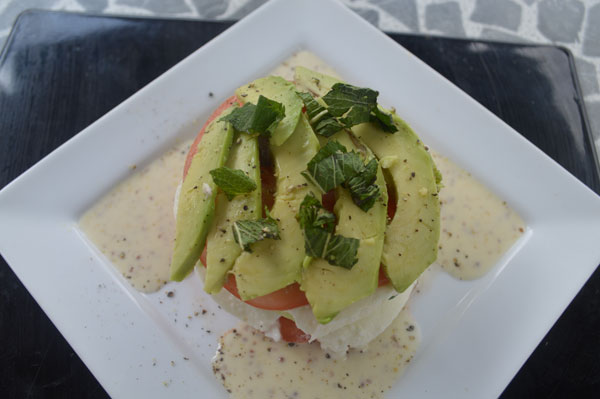 This is a very attractive starter, or can be made as part of a buffet for friends and family. The dressing is very important with this dish, as it will really bring out the flavors.
Serves: 4
Preparation Time: 25 minutes
Cook Time: No cook
INGREDIENTS:
1 lb log buffalo mozzarella cheese, sliced into rings, approx. ½ in thick
4 large tomatoes, sliced
2 avocados, destined and cut crossways
8 basil leaves, shredded
4 tbsp extra virgin olive oil
1½ tbsp aged balsamic vinegar
Freshly ground black pepper to season
METHOD:
If you have any poaching rings (bottomless rings to use for shape) then use them, but if not, you can shape these stacks yourself.
Whisk together the olive oil and balsamic vinegar to form the dressing, keep in the fridge ready for use. Before pouring over the dish, whisk again.
Simply layer the tomatoes, mozzarella and avocados, one after the other with a layer of shredded basil in between each, until you have a uniform stack. We have finished with the avocado, but it is up to you which order you place the stacks in, but preferably start with either the tomato or the mozzarella as these are firmer when you want to lift them off the plate.
Finish by drizzling over the dressing, and perhaps 'dotting' a little round the plate, and grind over some black pepper.
If you have used poaching rings, just slide the ring over the top and the stack is perfectly formed.