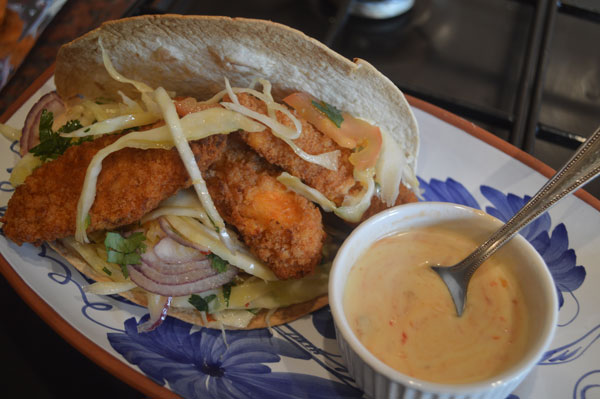 All up and down the coast of Mexico and Baja California, these delicious tacos are served in beach bars and restaurants. We have used mahi-mahi fish, which is the most popular along the coast but you can use almost any firm white fish that you can obtain. Combined with cabbage salad and spicy mayonnaise, these are absolutely mouthwatering. One of these is filling for a lunchtime dish or as part of a buffet or supper dish for friends.
Serves: 4 tacos
Preparation Time: 25 minutes
Cook Time: 10 minutes shallow fry or 20 minutes oven bake
INGREDIENTS:
For the fish
9 oz Mahi-mahi fillets or other firm white fish, sliced into strips
2 oz Panko breadcrumbs, or dry white breadcrumbs
1 tsp Chili flakes or chili powder
1 egg, beaten
4 flatbread tortillas
For the salad
½ small white cabbage, finely shredded
1 red onion, finely sliced
Handful of parsley, chopped
Handful coriander, chopped
2 tomatoes, finely chopped
1 tbsp olive oil
1 tbsp sweet chili sauce
Juice of half a lime
Seasoning to taste
EXTRA OLIVE OIL IF SHALLOW FRYING
For the dressing
6 tbsp mayonnaise
Juice of 1 lime
1 tsp chipotle paste
METHOD:
If you are using the oven, heat to 350°/180° C/Gas Mark 4 and line a baking tray with foil.
If you are shallow frying the fish, place olive oil in a frying pan. Do not heat until you have prepared the fish.
To prepared the fish, mix together the panko breadcrumbs with the chili flakes. Dip the fish strips into the egg and then into the breadcrumbs. Set aside.
Mix together all of the salad ingredients in a bowl, and place in the fridge.
Shallow fry/bake the fish fillets until cooked.
While the fish is cooking, mix together the sauce ingredients, place in fridge.
When the fish is almost cooked, heat the tortillas in a pan or in the oven, or if you have an open flame grill, heat on each side until slightly chargrilled.
Place the tortillas on individual plates, put a portion of salad in the middle of each and top with the fish.
Serve with a side dip of the sauce.