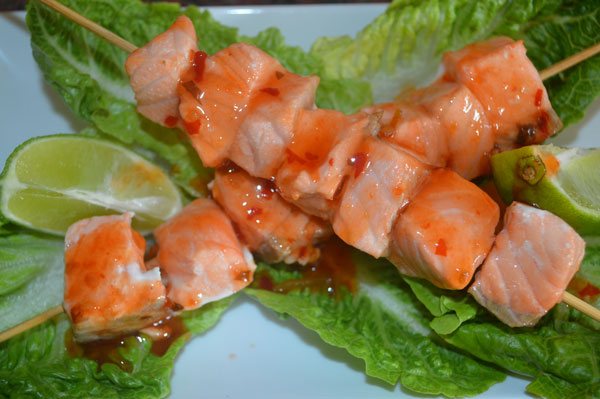 These are super-tasty and very healthy for you. Serve with steamed broccoli or a tossed lettuce and cucumber salad for a complete meal.
Serves: 4
Preparation Time: 25 minutes (including marinating)
Cook Time: 8 minutes
INGREDIENTS:
4 tbsp sweet chili sauce
Juice 1 lime
4 x 5 oz skinless salmon fillet, cut into large chunks
Oil, for drizzling
METHOD:
Combine the sweet chili sauce and lime juice in a bowl. Pour half the mixture into a bowl for serving. Thread the salmon onto 4 skewers and brush with the remaining chili sauce. Marinate for 20 mins.
Heat a griddle pan until very hot. Shake excess marinade from the kebabs, then drizzle with oil, season and griddle for 8 mins, turning occasionally until the salmon is opaque and comes away easily from the pan. Serve hot with the dipping sauce.