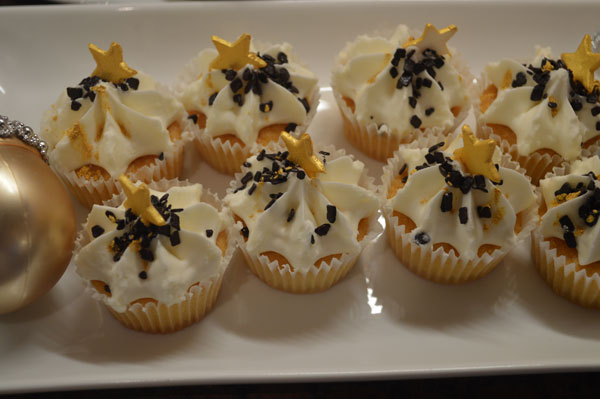 Half the fun of making these sweet little cupcakes, is picking the decorations to go on the top! There are so many edible delights to buy ready made now, so you can have fun and involve the children as well. These cakes are made using buttercream, but you could use ready to roll Royal Icing.
Serves: 10 medium sized cupcakes or 16 small ones
Preparation Time: 10 minutes
Cook Time: 10 – 15 minutes
INGREDIENTS:
For the cupcakes
4 oz butter
4 oz self raising flour
4 oz caster sugar
2 eggs, lightly beaten
1 tsp vanilla extract
1-2 tbsp milk
For the buttercream
5 oz butter, softened
1-2 tbsp milk
10 oz icing sugar
Food coloring of choice
METHOD:
Prepare a baking tray with the cupcake cases on, or a holed cake tin, but still use the cases.
Heat oven to 180 C/340 F/Gas Mark 4.
Cream butter and sugar together until soft and pale in color. Do not over beat the mixture as it may curdle.
Beat in the eggs a little at a time, add the vanilla extract and stir until combined.
Fold in the flour, and add some of the milk. Mix together and add more milk until the mixture drops off the spoon. Spoon into the cupcake cases to just over half way.
Bake for 10-15 minutes until golden brown on top. Cool for 10 minutes and then place on to a wire rack and leave to completely cool before icing.
For the icing, beat the butter until soft and creamy and add the icing sugar slowly, mixing each time you add some. Add a little milk until the mix is nice and smooth. If you want to add food coloring, do so now and mix until it has all blended in. Take a piping bag with a star-shaped nozzle and work the icing through in a circular motion.
Add colored sprinkles, edible gold dust, sugar balls and edible stars to decorate, or anything you want to make them Christmassy.