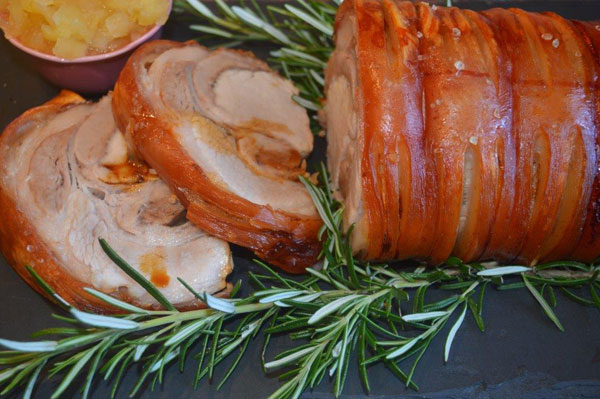 This is a delicious roast to have with friends or family, and making your own apple sauce is far more tasty than shop-bought ones. You can spice the apple with cinnamon and nutmeg, and we have also known dishes where the sauce is spiced with chili. Be inventive! Get your butcher to bone and roll the meat for you and score the skin to make delicious crackling.
Serves: 6-8
Preparation Time: 10 minutes
Cook Time: 1 hour 30 minutes
INGREDIENTS:
For the pork
1 boned and rolled loin of pork, approx 3 lbs
2 tbsp olive oil
Sea salt to rub into crackling
2 rosemary branches
1 white onion, cut in half
For the apple sauce
4 medium sized apples, peeled and cored, cut into small chunks
½ tsp cinnamon
¼ tsp nutmeg
1 tbsp light brown sugar or caster sugar
METHOD:
Heat oven to 400°F/200°C.
Rub the pork all over with olive oil and sea salt. Place in a large roasting dish with the rosemary underneath. Place the onion halves on either side of the pork.
Roast in the oven for 20 minutes until the skin starts to crackle. Turn down the oven to 340°F/170°C.
Roast for a further 1 hour and 10 minutes, until the crackling is completely crisp. Test with a pointed knife in the centre of the meat, to ensure that the juices run clear. If not, continue to roast for a further 10 minutes.
While the meat is roasting, make the apple sauce by placing the diced apple into enough water to cover it and bring to the boil. Simmer on just below boiling point for approximately 25 minutes until the apple is tender but not 'mushy'. Put the cinnamon and nutmeg into the apple mix and stir. Remove from the heat and allow the spices to permeate the apple. When cooled, drain away the liquid, and place the apple sauce into a pretty bowl.
Remove the meat from the oven and leave to cool slightly before carving, so that the meat has relaxed. Remove the rosemary from the baking tray, squeeze the flesh from the onions and add stock to create a wonderful aromatic gravy.