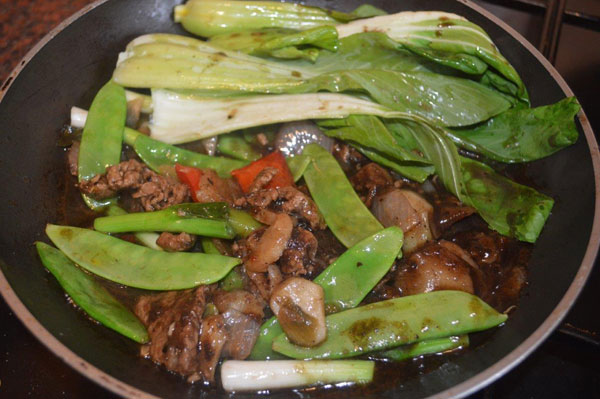 We love these quick, easy and fresh recipes to make, in under half an hour. A taste of the Far East, this dish is a great quick supper dish to make for a few people or a group.
Serves: 4
Preparation Time: 15 minutes
Cook Time: 10 minutes
INGREDIENTS:
1 tbsp vegetable oil
1 lb tender lamb steaks, pummeled with a rolling pin
1 bunch spring onions/scallions
2 heads of pak choi, ends trimmed and halved lengthways
1 inch ginger, peeled and cut into tiny matchsticks
3 garlic cloves, finely sliced
1 red chili, finely sliced
4 oz sugar snap peas or mange tout, sliced
3 heaped tbsp oyster sauce
1 tbsp light soy sauce
1 tbsp sweet chili sauce
1 tbsp fresh coriander, chopped
METHOD:
Make the marinade by mixing together the oyster sauce, soy sauce, sweet chili sauce, garlic, ginger and red chili.
Slice the lamb into strips and place in the marinade for as long as possible. (You could do this the night before and refrigerate.)
In a frying pan or wok, heat the oil until hot, and throw in the lamb so that is sizzles. Cook, stirring to ensure it is cooked, approximately 3 minutes. Set aside.
In a separate pan, place little more oil, and stir fry all the vegetables until slightly softened but still with a little bite.
Put the lamb back into the pan to reheat. Add the marinade from the lamb and stir fry until warmed through and ready to serve.
Sprinkle with a little coriander and serve with rice or noodles.