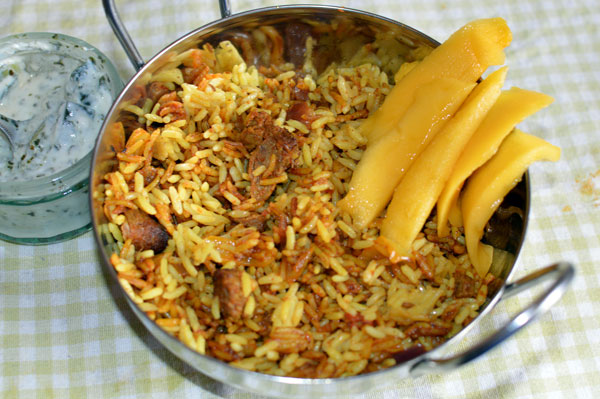 You can use leftover leg of lamb for this dish, or alternatively use lamb neck fillet, which is tender and quick to cook. This tasty all in one dish benefits from accompaniments of cucumber and mint raita, and fresh sliced mango – very refreshing. You could also serve this with warm naan bread.
Serves: 4
Preparation Time: 10 minutes
Cook Time: 30 minutes
INGREDIENTS:
1 tbsp vegetable oil
1¼ lb lamb neck fillet
1 large white onion
3 tbsp balti curry paste
55 oz lamb stock (you can use chicken stock)
9 oz basmati rice, rinsed in cold water
2 handfuls of baby spinach
Handful of sultanas
2 tbsp fresh coriander, chopped
For the Raita
2 inches cucumber, skin and seeds removed, diced
7 oz plain thick yoghurt
1 tbsp fresh mint, finely chopped
METHOD:
Mix together all the ingredients for the raita in a small bowl. Set aside.
Over a low heat, lightly sauté the onions in the oil. Add the curry paste and continue to soften the onions in the paste.
Add the lamb*, and brown on all sides, mixing thoroughly with the onions and curry paste.
Add the stock and the rice and bring to the boil, covered with a lid. Continue to cook for approximately l5 minutes until the rice is soft and the lamb is tender. Turn off the heat, add the spinach (if desired), replace the lid and leave to steam for 5 minutes.
Stir through the sultanas, portion into bowls and top with the coriander. Some flaked almonds are also tasty with this dish.
Serve with the raita and Indian bread.
*If using leftover lamb, put in the lamb at the end of the boiling period.