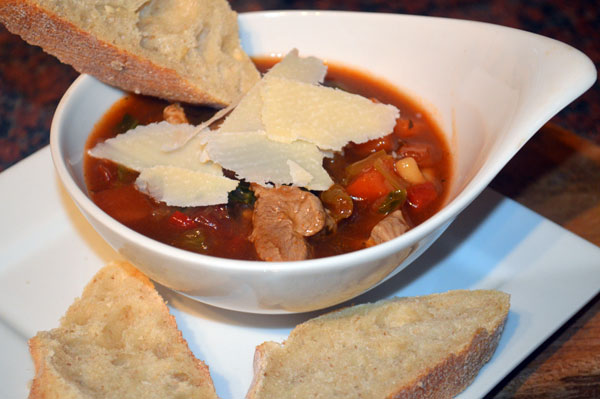 This is so mouthwatering, it can be served as a stew in a larger portion, or even as a minestrone style soup. This is a recipe from the shepherds up in the Tuscan hills which we have adopted to a lamb recipe, whereas they tend to use anything and everything meat-wise that they shoot or kill in some form or fashion (rabbits, pigeon etc). It is very rich and filling, served with lovely Italian crusty bread.
Serves: 6
Preparation Time: 20 minutes
Cook Time: 1½ hours
INGREDIENTS:
2 or 3 tbsp olive oil
1 lb cooked leftover lamb, or 1½ lbs of neck fillet, stewed for 1 hr 30 minutes, cut into small cubes or shredded
4 large carrots, peeled and diced
4 large leeks, cut into 4 lengthways and shredded
4 large white onions, finely diced
3 sticks celery, chopped
8o z small pasta shapes, such as Anellini
6 oz green beans, finely chopped
4 cloves garlic, finely chopped
8 tomatoes, finely chopped
1 x 8 oz canned cannellini beans
16 oz high quality chicken or lamb stock plus 1 stock cube
Extra water if needed
2 stalks rosemary, leaves removed and chopped
Seasoning to taste
METHOD:
In a large pan, gently sauté the garlic, onions, green beans, celery and carrots in the olive oil. Add the leeks and continue to 'sweat' the vegetables. Add the tomatoes and stir all together.
In a separate pan, cook the pasta as per packet instructions, until al dente. Drain, and mix in with the vegetables.
Pour the stock into the pan add the lamb and rosemary. Add the additional stock cube, stir all the mix together.
Bring to the boil and then leave to simmer (no lid). After 10 minutes, add the rosemary and a little more water to prevent drying, and continue to simmer for a further 10 minutes.
Taste, and adjust seasoning if required.
Serve with chunks of crusty bread either as a soup, or as a stew with boiled potatoes.