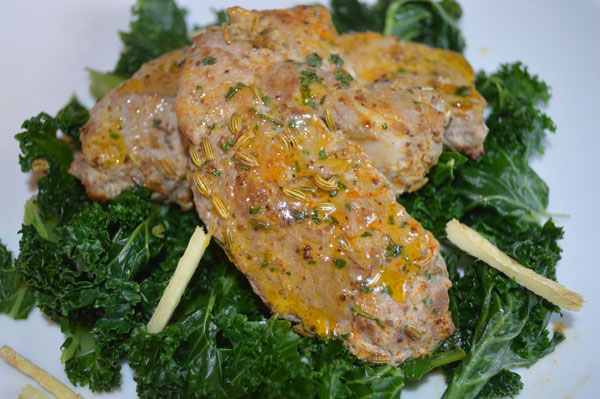 Lovely, juicy lamb Middle Eastern style and served with crisp stir fried cabbage make a quick and delicious meal. Can be served with savory seasoned rice to make a filling whole meal.
Serves: 4
Preparation Time: 20 minutes
Cook Time: 15 minutes
INGREDIENTS:
8-12 lamb steaks or cutlets, depending on size (2 minimum per person)
1 tbsp ground coriander
3 tbsp black mustard seeds
1 thumb-sized piece of ginger, shredded into matchsticks
2 cloves garlic, peeled and finely chopped
7 oz coconut cream
1 large savoy cabbage, or crispy cabbage, shredded
Grind of black pepper, to season to taste
Olive oil or butter for frying
METHOD:
Prepare all the ingredients as above. Place the coconut cream into a shallow sided bowl and add the mustard seeds, coriander and some black pepper. Add the ginger and garlic and stir thoroughly.
Marinate the lamb in the coconut mixture for at least 15 minutes, longer if you have time. Take a griddle pan and fry the cutlets until golden brown but not well done. You could also cook them under a hot grill, approximately 5 minutes each side for nice and juicy pink lamb.
Whilst frying the lamb, place butter or olive oil into another pan and stir fry the crisp cabbage until cooked, but still a little crunchy.
Serve the lamb on top of the cabbage. Serve with rice if required, or a little mint and yoghurt dip.