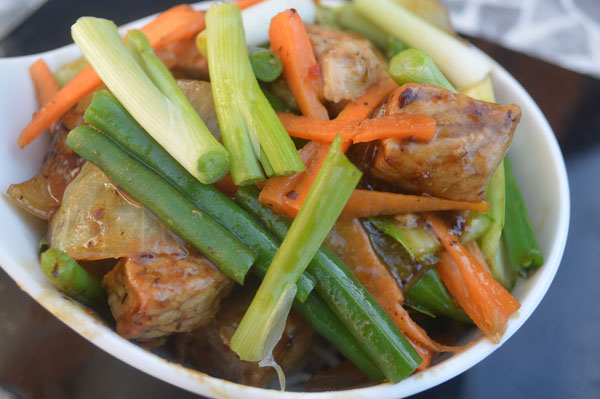 This is so indicative of a Chinese rural dish with a little bit of help from shop bought sauces. All the traditional ingredients of a stir fry, but using very lean loin of pork, as it takes so little time to cook. You can produce this dish in less than 20 minutes!
Serves: 4
Preparation Time: 10 minutes
Cook Time: 10-15 minutes
INGREDIENTS:
1 lb of lean pork loin, cut into cubes
1 white onion, sliced into pieces
1 jar of yellow bean sauce
½ cup of water
4 cloves of garlic, finely chopped
2 tbs soy sauce
3 spring onions, cut into 2 inch pieces
2 tbsp peanut or sesame oil
2 heads of pak choi or bok choi
1 carrot, cut into matchsticks
Noodles to serve
METHOD:
Heat oil in a large pot or frying pan and fry onion and garlic until slightly softened.
Add the pork a little at a time, stir frying continuously to coat and cook.
Add the yellow bean sauce and stir, adding a little water at a time until the pork is cooked – (about 10 minutes).
Throw in the carrots and pak choi and continue to stir for one or two minutes. Add the soy sauce and continue to stir.
Top with the spring onions for just a few seconds to heat, and serve with noodles.