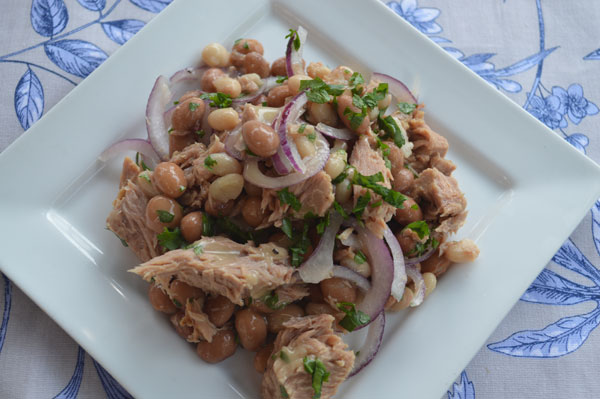 Classic Italian dish, but so simple to make. It is all about fine quality ingredients from the tuna to the olive oil for the dressing.
INGREDIENTS:
14 oz of tuna in spring water, or oil (not brine), drained
1 small red onion, thinly sliced
1¼ lb of tinned mixed beans, such as borlotti, cannellini or haricot, drained and rinsed
2 oz of flat leaf parsley, finely chopped
1 Tbsp. extra virgin olive oil
Juice of 1 lemon
½ Tsp. ground black pepper
1 celery stalk, finely chopped
METHOD:
Put the onions, mixed beans, celery and flat leaf parsley into a medium sized bowl. Break up the tinned tuna and place into the bowl. In a small jug, whisk the olive oil, lemon juice and ground pepper together. Add the dressing to the tuna and bean dish. Gently stir the mixture, trying not to break up the tuna.
Place on a serving plate if part of a meal, or on separate plates for individual servings.