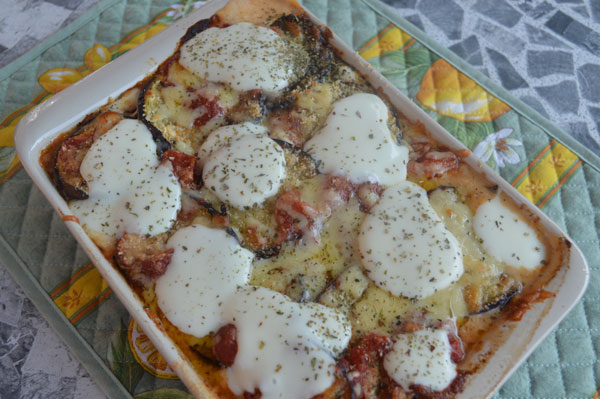 This is a really lovely authentic Italian dish which is delicious served with rustic crusty bread and a mixed salad. The earthiness and meatiness of the eggplants really comes through and you don't miss not having meat! We have used a combination of top Italian Chef's recipes to provide the ultimate!
Serves: 4
Preparation Time: 15 minutes
Cook Time: 30 minutes
INGREDIENTS:
3 large eggplants, sliced into ½ inch rings
2 x 14 oz cans of chopped tomatoes
Large handful of fresh basil
3 teaspoons dried oregano or thyme
2 tablespoons of flour
4 cloves of garlic, crushed or finely chopped
10 oz of good quality mozzarella
3½ oz of parmesan
3 tablespoons of extra virgin olive oil
Salt and Pepper to taste
METHOD:
Preheat the oven to 180 C/350 F.
Slice the eggplant as instructed, brush with olive oil and dip each slice into the flour. Fry on a medium heat until lightly golden. Put on kitchen paper to absorb any excess oil. Set aside.
In a separate pan, sauté the garlic in olive oil, stirring to prevent sticking or burning. Add the tomatoes and simmer gently for approx. 20 minutes to reduce down. At this stage, if you like a smooth sauce, you can puree in a blender, but leave the sauce if you prefer more texture. Add salt and pepper to taste, or even a pinch of sugar.
Take a baking dish (we use 9 x 5 inches) and put a layer of the sauce in the bottom. Sprinkle on some of the oregano or thyme and a good quantity of the shredded basil and some seasoning. Add a layer of eggplants, followed by a layer of mozzarella.
Add a little more tomato sauce and sprinkle over some parmesan. Repeat this process until you have used all the ingredients, ending up with a final layer of mozzarella, sprinkled with the last of the parmesan.
Bake in the oven for 30 minutes. It will be piping hot, so serve when a little cooler.