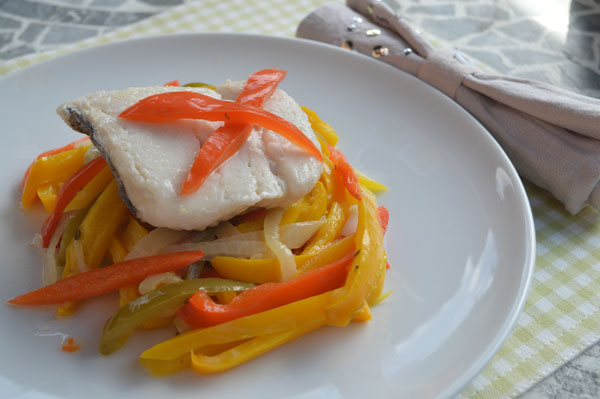 This is a delicious and healthy dish, originating in the Basque country area but served throughout Spain. Low in fat but high in vitamins and protein.
Serves: 4
Prep Time: 15 minutes
Cook Time: 30 minutes
INGREDIENTS:
4 - 7 oz pieces of cod, hake or other firm white fish
2 tablespoons of olive oil or rapeseed oil
6 peppers, mixture of red, green and yellow
1 large sweet white onion
1 teaspoon of fresh chopped thyme
1 teaspoon of fresh chopped parsley
1 clove of garlic
Half a lemon, cut into rings
METHOD:
Slice the peppers into strips, making sure you discard the seeds and membrane. Slice the onions into rings and cut each ring in half. Finely slice the garlic.
Using 1 tablespoon of olive and a few cups of water, place the peppers, onions and garlic into a saucepan and bring to the boil. Add the herbs. Turn the heat down to a simmer, and cook for a further 20 minutes. The peppers and onion should be soft, but still with a little bite. Drain and set aside, reserving a little of the liquid.
Place the fish fillets with a little water and 1 tablespoon of olive oil 'en papillote' (put into tin foil in separate packets) and top each slice with a ring of lemon.
Bake in the oven for approximately 10 minutes. Open the package, the fish should be white and gleaming, but cooked through.
Reheat the pepper mix and serve on to the plate. Put the fish on to the top and serve with a mixed salad or crusty bread. You can also serve with a few small cooked potatoes, if required.