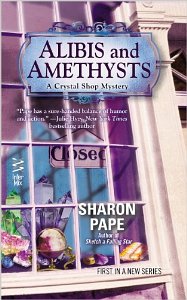 Product Description
File Size: 605 KB
Print Length: 256 pages
Publisher: InterMix (August 20, 2013)
Sold by: Penguin Group (USA) LLC
Language: English
Customer Reviews
Available in this Kindle Edition only (What's Kindle?)
An all-new mystery series from Sharon Pape—set in a sparkling world of crystals and crime… 
Jaye Saylor is living her dream as the proud owner of Crystal Clear, a crystal and gemstone shop in the Red Rock area of Sedona, Arizona—a Mecca for tourists and new-age enthusiasts. And since tourists need sweets, Jaye gets to share her dream with her best friend, Sierra, who owns Cravings, a new local bakery.
But when the two friends discover the stone-cold body of a rival baker in Sierra's backyard, that dream turns into a petrifying nightmare. With the police eager to pin the murder on the two women, Jaye and Sierra are forced to investigate on their own. Sedona is known as a place of powerful psychic energy, and the friends will have to contend with some unexpected forces to catch a hardened killer and make their innocence crystal clear…
Don't miss SKETCHER IN THE RYE, the next Portrait of Crime Mystery title from InterMix!