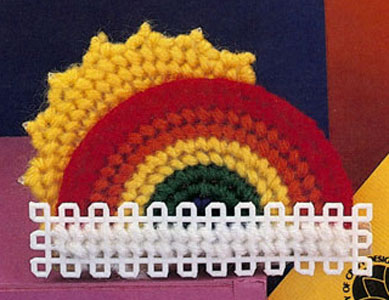 Materials
Plastic Canvas: 1 pc., 1" x 3½", white; 1 pc., 3" round, clear
Yarn: blue—1 yd.; green—1 yd.; yellow—7 yds.; orange—2 yds.; red—3 yds.
1 clothespin
Cut 1 cloud piece from white plastic canvas as shown on chart. Cut the 3" round in half by cutting along one side of one of the center bi­secting lines. The half which loses the row of holes is used for making the sun. Using the sun pattern, cut the edge of the half-round to make the sun piece.
Stitch the cloud piece as shown on pattern with white yarn. Stitch the sun with yellow yarn. Stitch the rainbow as shown on the chart. Over­cast the edges of the sun and rainbow.
Using white yarn, attach rainbow to top row of cloud stitching. Whipstitch sun to back of rain­bow, placing it at an angle.
Attach the clothespin to the back of the cloud, parallel to bottom of cloud, in the same manner as for the animal clippie. (See general instructions).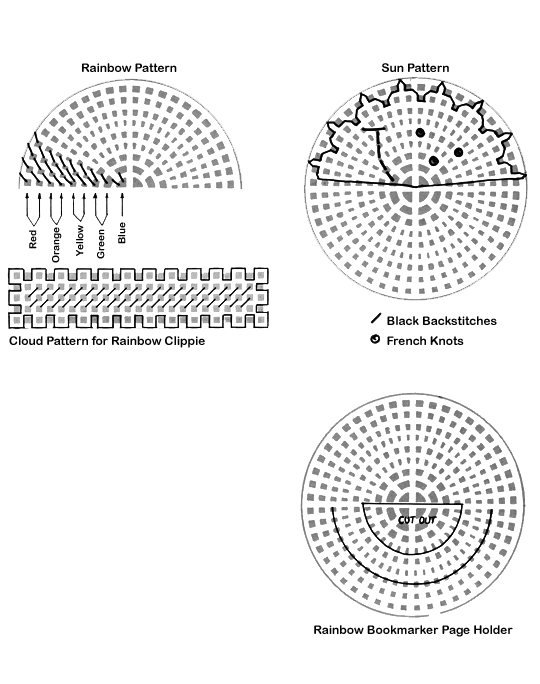 Other great patterns from Collectable Clippies:
Pattern © 1982 by Plaid Enterprises, Inc. Reproduced with permission from Plaid. PurpleKittyYarns.com is not endorsed by Plaid.