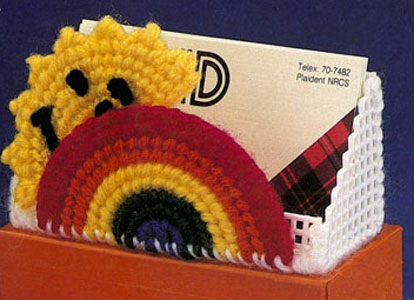 Materials
Plastic Canvas: 1 pc., 4" x 6", white; 1 pc., 3" round, clear
Yarn: blue—1 yd.; green —1 yd.; yellow—7 yds.; orange—2 yds.; red—3 yds.; black—1 yd.; white—5 yds
See diagram of box. From white plastic canvas cut the following pieces:
1 back, 12 bars x 25 bars
1 bottom, 10 bars x 25 bars
1 front, 4 bars x 25 bars
2 ends, 10 bars x 12 bars, as shown
Follow the directions for step 1 of the Rainbow Clippie for cutting the sun and rainbow pieces.
Lace the box together with overcasting stitches along the corners. Remaining edges need not be overcast if you leave the box unstitched as shown. Stitch the rainbow as shown on chart. Stitch the sun with yellow yarn, over­casting the edge. With black yarn, backstitch the sun smile and add French knots for the eyes and nose. (See general information).
Attach the sun to the back of the rainbow so that the face just does peek out over the rain­bow. (See photo). Lace the bottom edge of the rainbow to the front, bottom corner of the as­sembled box with white yarn.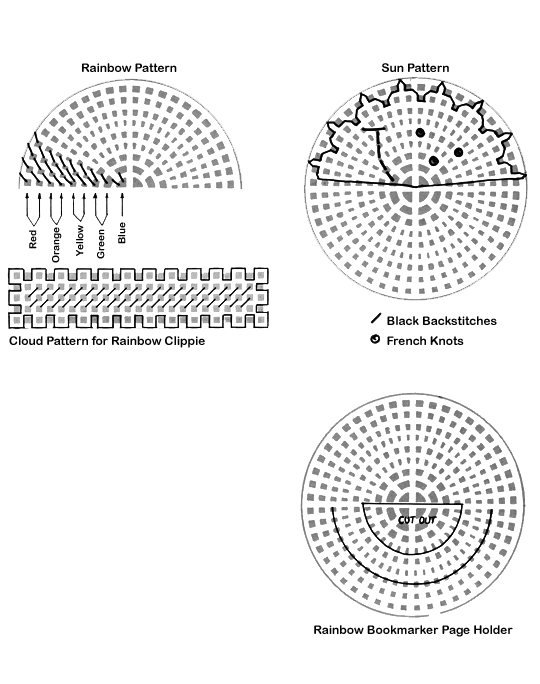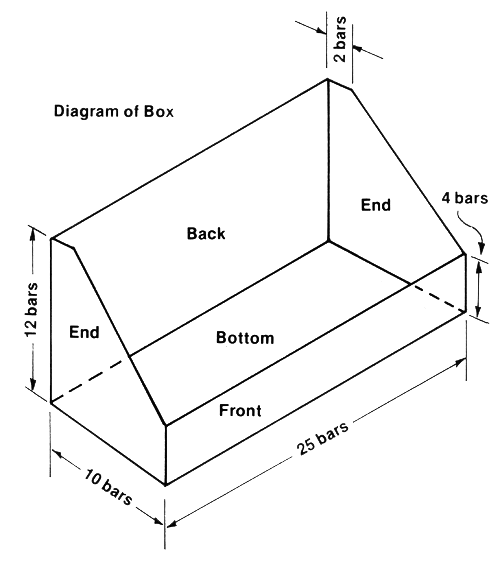 Other great patterns from Collectable Clippies:
Pattern © 1982 by Plaid Enterprises, Inc. Reproduced with permission from Plaid. PurpleKittyYarns.com is not endorsed by Plaid.