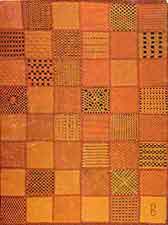 Want to Crochet? It's easy when you follow the step by step instructions and photos inside these covers. Learn, one by one, all the intriguing patterns shown in this book with complete instructions for each included. Once you know them all, no crochet pattern will be too much for you. You will be able to create your own originals, for most of these stitches are adaptable to any article – sweaters for men, women and children, dresses, bedspreads or magnificent afghans.
So start now. Show your skill. Choose any of the 48 patterns shown, then put them all together for the lovely crochet Sampler Afghan or choose your favorites to create your very own special elegant afghan.
COLORS: All patterns assume use of three colors noted in each pattern as A, B and/or C. Use suggested colors or feel free to experiment and use your favorites!
MULTIPLE STS: To help you make full use of patterns given in this book, where feasible, we have given "multiple of sts" required on foundation or starting ch for 1 repeat of pattern.
Multiple of ch sts is not given for simple patterns requiring 1 ch for each st, nor for patterns starting at center.
For each additional repeat of pattern desired, add required multiple of ch sts to number of sts on foundation ch given in instructions.
For example: To add to width of a pattern with "multiple of 4 ch sts," ch 4 more than given in instructions for each extra shell required; to make narrower ch 4 less for each shell to be eliminated.
STITCH GAUGE: Afghans are planned on the basis of working to a specified number of stitches and rows to 1 inch; this is referred to as the GAUGE. Required gauge is given at beginning of instructions. If this gauge is not obtained the finished afghan will not be the correct size.
The size crochet hook recommended will give the average worker the correct gauge. However, if you do not obtain the gauge required, change the size hook to conform to the tension of your individual work; if your work is too loose use smaller size hook to tighten gauge; if your work is too tight use larger size hook to loosen gauge. You MUST get gauge given to insure proper size of finished afghan.
ABBREVIATIONS AND TERMS USED:
Ch – ch; st(s) – stitch(es); sl – slip; sl st – slip st; tog. – together; beg. – beginning; in.(s) – inch(es); sc – single crocheted; dc – double crochet; hdc – half double crochet; tr – treble crochet; yo – yarn over
An asterisk (*), double asterisk (**), or dagger (†), indicates that the instructions immediately following are to be repeated the given number of times in addition to the original.
BLOCKING: With wrong side up, using rust-proof pins, pin out on padded surface to given measurements. Steam lightly with moderately hot iron over a wet cloth, taking care not to let weight of iron rest upon any one spot. Allow to dry before removing.
FRINGE: Wind yarn around cardboard; cut at one end, see Figure 1. Fold in half and knot in number of strands indicated in individual instructions, see Figure 2. Trim fringe evenly.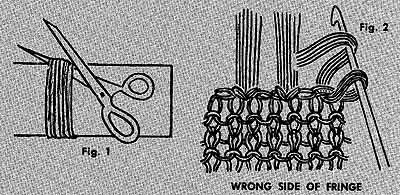 Pattern © 1972 by Bernhard Ulmann. Reproduced with permission from Plaid. PurpleKittyYarns.com is not endorsed by Plaid.