Try Something New - Lamb!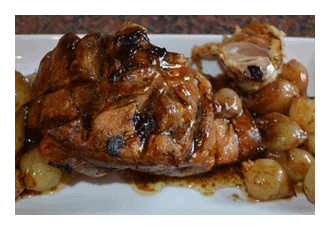 Lamb is a tasty choice for your dinner table, with a variety of interesting ways to cook it. Whether you choose to make kebabs, a roast, stew, chops or burgers, lamb is a versatile and appetizing meat.  Some even argue that lamb may be one of the healthiest meats you can eat. It is a staple of Mediterranean diets, which help lower the risk of heart disease. Lamb is also considered a more humane meat choice because of the way sheep are raised – they are less likely to be confined to factory farms and many are grass fed and allowed to graze freely. This ensures a tastier and more natural cut of meat than some other products found on grocery store shelves.
If you are looking for lamb with a slightly more robust flavor, you might want to try mutton, which is meat taken from an older sheep. Meat from younger lambs is more tender, but mutton has a higher concentration of fatty acids and is considered by some to be more flavorful.
Whatever cut of lamb you prefer, you will not be disappointed by the number of recipes to choose from. Try a slow-cooker for the tenderest lamb, roll it into meatballs for a fun family treat, or create traditional lamb Gyros. The possibilities with lamb are truly endless.
Lamb Recipes
Spicy Barbecued Lamb
3-4 lb leg of lamb
2 tsp ground cumin
1 tbsp paprika
2 garlic cloves, cut into slivers
2 tbsp vegetable oil
2 tbsp white wine
Salt and pepper
Blend together the wine, cumin, paprika and oil with salt and pepper to taste, then brush a little of the mixture over the lamb.
Make slits in the lamb skin and insert the slivers of garlic.
Place the lamb, together with the remaining oil and wine mixture into a polythene bag.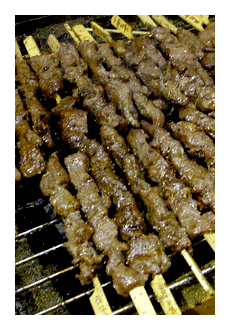 Leave to marinade in the refrigerator for 3-4 hours, turning the bag occasionally.
Remove the lamb from the bag and reserve the marinade.
Insert a rotisserie spit through the lamb, making sure that the weight is evenly distributed.
Cook the lamb over a hot barbecue for one and a half to two hours, basting frequently with the reserved marinade, until the meat is tender, or a little longer if you like well-done lamb.
Carve into thick slices and serve with a salad.
Marinated Lamb Kabobs
2 lbs boneless lamb
1 onion, diced
⅓ c diced green pepper
½ c dry red wine
¼ c olive oil
½ tsp pepper
¼ tsp sage
⅛ tsp dry mustard
⅛ tsp dried whole oregano
Remove fell (the tissue like covering) from lamb, if necessary; cut meat into 1 inch cubes and set aside. Combine the remaining 8 ingredients in a 13 x 9 inch baking dish. Add lamb; cover and marinate overnight in refrigerator. Remove meat from marinade, reserve liquid. Cook marinade in small saucepan until heated. Place meat on skewers. Grill about 6 inches from medium coals for 15 minutes or until done, turning and basting often with marinade. Serves 6.