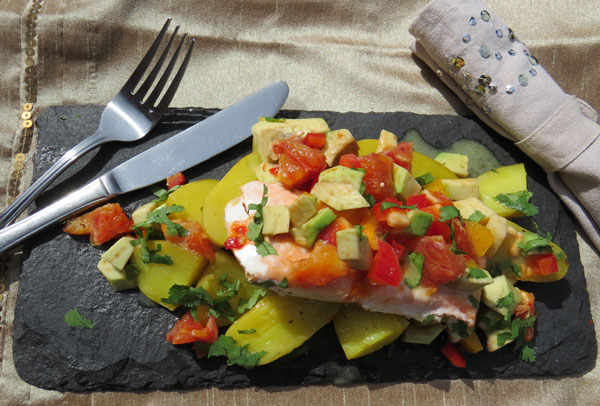 Whilst we have used salmon fillets in this recipe, it is equally delicious using tuna, swordfish or any firm white fish available to you. Coupled with the zingy avocado salsa, it is a delicious meal and can be eaten either warm or cold. Very simple recipe and ideal for eating inside or outside as a simple lunch or supper dish.
Serves: 4
Preparation and cooking time: 30 minutes
Ingredients
4 boneless salmon fillets
2 lemons
2 large oranges
1 red chilli, deseeded and finely chopped
A couple of handfuls of chopped coriander
1 lb of baby potatoes
3 scallions, finely chopped
Light virgin olive oil
2 avocados, peeled and diced
Directions
Boil the potatoes until just tender, about l5-20 minutes depending on size (it is best to use baby potatoes that are of the 'waxy' variety). Drain well and slice lengthways in half. Place in a bowl and toss in a little of the olive oil and season.
Cut the skin off the oranges, then cut between the membranes to remove the segments. Cut into small pieces and place in a separate bowl. Add the scallions, avocados, chilli and coriander. Add a little of the olive oil and mix well. Season if required.
Slice the lemons, and place a couple of slices on a piece of foil (for each fillet). Place the salmon fillet on the top of the lemons, then add another couple of lemon slices on to the top of the fillet. Wrap loosely to form a small parcel. When all four are complete, place on a baking tray into the oven at 320 degrees F/160 degrees Celsius, and bake for approximately 10-15 minutes. Check the salmon fillets after ten minutes – they should be moist and a pinky/opaque color at their best. If not, return to the oven for a further few minutes, ensuring that you close the parcel again.
Pile the potato slices on to a plate, then top with the salmon and a generous helping of the salsa.