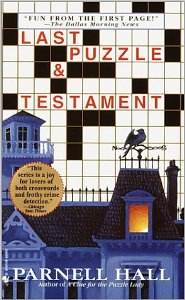 Product Description
Mass Market Paperback: 400 pages
Publisher: Bantam (August 28, 2001)
Language: English
ISBN-10: 0553581430
ISBN-13: 978-0553581430
Customer Reviews
Other Editions
Kindle Edition
(What's Kindle?)
Hardcover
Wealthy widow Emma Hurley died with only her servants at her side — but after she passes away, her greedy heirs crawl out of the woodwork to stake a claim in Emma's fortune. To their surprise, Emma was not content to leave behind a simple will. Instead, her final testament includes a clever puzzle ... one to be given only to her living heirs.
The first one to solve the puzzle will inherit Emma's entire estate; everyone else will be left with a pittance. The will also stipulates that Cora Felton — local celebrity and famed author of a popular syndicated crossword puzzle column — must referee the contest.
Unfortunately, it's Cora's niece, Sherry Carter, who is the brains behind Cora's "Puzzle Lady" persona. And it's up to Sherry to unravel the bizarre riddle Emma Hurley engineered before her death. For soon it's plain that Emma's game is one without a clear winner ... and that the players could lose far more than they ever imagined!