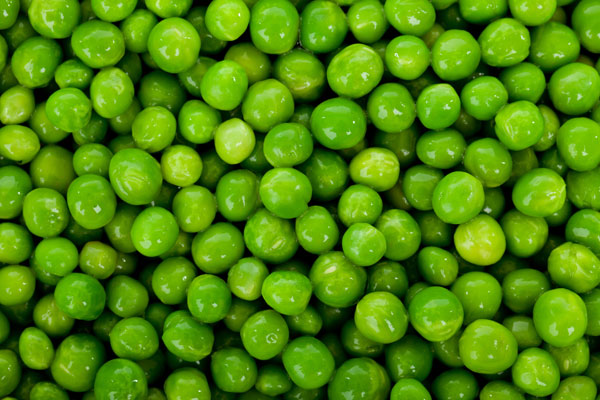 Peas are probably one of the first "real" foods we're fed when we're babies. It's not just the sweetness and size and texture that make them ideal – peas are an extremely healthful food with a nutrition profile that's matched by very few other vegetables.
What is it?
The green pea is a vegetable that grows its seeds inside of a pod. (By a strict scientific classification they're actually a fruit, but in common usage we consider them to be a vegetable.)
Health Benefits
The green pea is a nutritional and macronutrient powerhouse. Peas provide a combination of protein and fiber that can be found in very few other foods. By consuming both of these macronutrients in a single food, we can better regulate the pace of our digestion, ensure the better breakdown of carbohydrates within our digestive tract, and help to keep our blood sugar levels even.
A single serving of green peas contains almost equal amounts of protein and dietary fiber. A serving also contains nearly half of a full day's recommended daily allowance for vitamin C, as well as significant amounts of vitamin B1, vitamin B3, vitamin B6, vitamin B9, iron, phosphorus and zinc. Peas also contain phytonutrients and antioxidants that can help to reduce inflammation and oxidative stresses within the body. Green peas also help to reduce the risk of various types of cancer, including the particularly devastating stomach cancer.
Peas are also a source of omega-3 fats, with each cup of green peas containing 130 milligrams of linoleic acid and 30 milligrams of alpha-linoleic acid.
Fun Fact
Peas were the subject of Gregor Mendel's research from 1830 to 1860. Based on Mendel's experiments with cross-breeding and cross-pollinating different types of pea plants, the field of genetics and genetic research was born.
How to Eat
Not only are there different ways to prepare peas, there are different types of peas you can eat. Snow peas and sugar peas are often harvested prior to being fully mature, and are prepared with the pods intact. These peas in a pod can be eaten raw, added to salads or stir fried.
Given the inherent sweetness of peas, they make a great sauce when combined with mint. Green pea mint sauce goes great with chicken, lamb or salmon. Peas can also be lightly smashed and cooked into pancakes with savory elements such as leeks or shallots.
Because peas are so high in protein, they can become an important of the diet of vegetarians and vegans. In fact, pea protein is often reduced to a powder form that can be added to smoothies, baked goods and other recipes.
Peas are an incredibly versatile food that should have a regular place in everyone's diet.
Pea Recipes
Peas Be Mine
1 C. celery, sliced diagonally
2 (10 oz) pkgs. frozen peas
1/3 C. thinly sliced onion
¼ C. butter
Add celery to ½ C. boiling water and cook 3 minutes. Add peas and onions, return to boil rapidly for 5 minutes or until peas are tender. Drain and add butter. Serve with your favorite main dish.
Asian Snow Pea Garden Salad
1 lb fresh garden snow peas, washed and strings trimmed off
1/2 cup carrots, cut into very thin strips
1/2 cup red bell peppers, cut into very thin strips
1/2 cup sliced water chestnuts, drained
2 tsp sesame oil
1 Tbsp minced fresh ginger root
1/2 cup sliced mushrooms, your choice
2 garlic cloves, minced
1/8 tsp red pepper flakes
1 Tbsp soy sauce
1 Tbsp brown sugar
1 Tbsp oyster sauce (optional, may substitute with 1 Tbsp more soy sauce)
salt to taste
Sesame seeds for garnish
Fill a large bowl with ice and water and set in sink.
Fill a large pot with water and bring to a rapid boil.
Prepare snap peas by dropping them in rapidly boiling water for just 20 seconds; immediately drain and dump into the ice bath, then drain in colander completely.
Put prepared peas into a large salad bowl with the carrots, red bell peppers, and water chestnuts, cover, and keep cool.
To prepare dressing, put sesame oil in a skillet over medium heat, add ginger and mushrooms and saute until fragrant, about 2 to 3 minutes.
Stir in the garlic and red pepper flakes and cook an additional 1 minute.
Stir in soy sauce, brown sugar, oyster sauce (if using), taste, and add salt if desired.  Allow mixture to simmer for 2 to 3 minutes, stirring, until well blended. Remove from heat and allow to cool.
Prepare salad by adding dressing to fresh vegetables in salad bowl, tossing to combine.
Serve on individual chilled salad plates with a sprinkle of toasted sesame seeds on each salad.
Fresh Ginger Peas
Add the flavor of fresh grated ginger to basic peas and make them special! These are especially good if you use fresh peas rather than canned or frozen.
1 cup of fresh peas
2 Tablespoons of chicken stock
1 clove of minced garlic
½ cup of freshly grated ginger
¼ cup of water
4 small carrots, thinly sliced (optional)
If you choose to add the carrots, you will need to simmer them in the stock for 5 minutes to soften. Use a medium sized saucepan. Add the remaining ingredients, cover and bring to a boil. Reduce heat and continue to cook for 5 minutes or until the carrots are tender.
Yield: 4 servings
Shrimp and Sugar Snap Peas
1 (16 ounce) package uncooked linguini pasta
2 tablespoons olive oil
1 teaspoon chili oil
1 1/2 pounds medium shrimp, peeled and deveined
1 pound sugar snap pea pods
2 large cloves garlic, minced
1 1/2 cups dry white wine
1/4 cup reserved pasta water
1 tablespoon unsalted butter
1 tablespoon fresh lemon juice
1/3 cup chopped fresh basil
Bring a pot of water to a boil. Add pasta, and cook until al dente. Drain, reserving 1/4 cup liquid.
Heat olive oil and chili oil in a wok over medium-high heat. Add the shrimp, pea pods, and garlic. Cook and stir until shrimp are almost opaque. Remove from heat, and set aside.
Add the wine and bring to a boil, reduce by 1/3. Add shrimp, peas, and garlic to the wok, and add the reserved water. Continue to cook and stir until shrimp are opaque. Remove from heat, and mix in the butter, lemon juice, and basil. Toss with the cooked pasta.
Fresh Black-eyed Peas
2 ham hocks
1 qts. water
1 qts. shelled fresh black-eyed peas
1 onion, minced
Salt & pepper to taste
Place ham hocks in 4-quart Dutch oven with water; bring to boil. Reduce heat, cover and simmer 30 minutes. Add peas, onion and seasoning, cook 35 minutes or until peas are tender. Add more water if needed. Cut up meat from hocks and add to peas to serve.