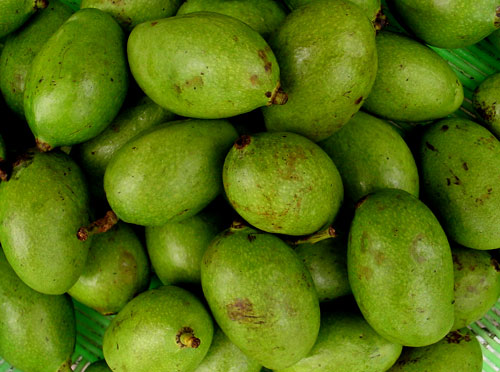 Heralded by many as the "king of fruits," the mango originated in southern India, particularly the countries of India and Burma. It is one of the most frequently cultivated fruits in the tropics and the national fruit of India, Pakistan and the Philippines. Today Mangoes are grown throughout the world's tropical and subtropical regions, including China, Brazil, Mexico, the West Indies, Spain and the Caribbean. In the United States, mangoes are grown in Hawaii and South Florida.
What is It?
The mango is a drupe, or stone fruit, which consists of skin, flesh and a pit. It grows on a tall tree that may produce fruit for hundreds of years. The fruit has a round or elongated shape, measuring 2 to 6 inches long and 1 ½ to 4 inches wide. The skin is smooth and may be yellow or orange depending on variety. The flesh is juicy and yellow to orange in color. It has a delightful scent and a rich, sweet flavor with just a hint of tartness.
The most common mango variety in the United States is the Tommy Atkins. It is not as tasty as other varieties, but it is more resilient and has a longer shelf life.
Health Benefits
The mango is an excellent source of vitamins C and A. It is also rich in niacin, folates, vitamin B6, riboflavin, thiamin, copper and vitamins E and K. This combination of nutrients offers protection against a variety of cancers, including those of the breast, colon, lungs and oral cavity.
Mangoes contain lots of prebiotic fiber as well. These fibers promote the growth of good bacteria in the gut, which aids in digestion and helps regulate cholesterol levels.
Fun Fact
The mango tree is related to poison ivy and poison sumac. In fact, the mango's leaves and stems contain urushiol, the same chemical that causes reactions in those sensitive to those plants. Allergic individuals should not handle unpeeled mangoes, but fruit that is already peeled rarely causes a reaction.
In India, the mango is held in high regard. Its leaves are used to decorate archways during weddings and other celebrations. Hindus eat a dish called Ugadi Pachhadi that contains unripened mango each year as part of their New Year celebration.
How to Eat
Mangoes that are to be consumed raw should be checked for ripeness. This is done by gently squeezing the tip of the fruit. If it gives slightly, it is ripe. Ripe mangoes may be kept unrefrigerated for up to 5 days.
Mangoes may be eaten by themselves or juiced. They are also used to make smoothies, ice cream, pies and salads. Dried mangoes may be eaten in strips or added to cereal.
Unripe mangoes are often used in cooking. They may be pickled or used in jams or chutneys.

Mango Recipes
Mango Pork
2 medium ripe mangoes
3/4 pound pork tenderloin
Vegetable oil spray
Salt and pepper to taste
Tabasco sauce
Slice 1 mango in half around the pit. Scoop out pulp with a spoon and puree in a food processor or blender. Cube the other mango.
Remove fat from pork and cut into 1 inch slices. Flatten slices with the palm of your hand.
Spray medium pan with vegetable oil spray and heat on medium high. Brown pork for 1 minute on each side. Season each side with salt and pepper to taste.
Reduce heat and cook pork another 5 minutes to cook thoroughly. Remove to a plate and add mango puree to pan. Cook puree about 30 seconds scraping up brown bits of pork as it cooks.
Add several drops Tabasco sauce and mango cubes. Toss cubes in puree for another 30 seconds. Spoon sauce over pork and serve with pasta.
Mango Relish
1 mango - peeled, seeded and diced
1 teaspoon extra virgin olive oil
1/2 red bell pepper, chopped
2 green onion, thinly sliced
1 tablespoon chopped cilantro
1 lime, juiced
1/4 teaspoon salt
1 pinch cracked black pepper
1 teaspoon honey
Combine the mango, oil, bell pepper, scallions, cilantro, and lime juice in small bowl. Stir to combine. Season to taste with salt, black pepper, and honey. Refrigerate, or serve immediately.
Mango Pudding with Rum
1/2 cup orange juice
1 tbsp fresh lime juice
2 tsp unflavored gelatin
1 12-ounce mango, peeled, pitted, cut into chunks
1/2 cup sour cream
1/2 cup milk
1/3 cup sugar
1 1/2 tbsp dark rum, optional
Mix citrus juices in small saucepan. Sprinkle gelatin over and let stand 10 minutes. Stir over low heat until gelatin dissolves. Let stand until just cool but not set.
combine mango, sour cream, milk, sugar and rum in blender and blend on high until smooth. Add gelatin mixture and blend well. Pour into six 6-ounce custard cups. Chill until firm, at least 5 hours.
Mango Chutney Mayonnaise with Turkey Salad
Mayonnaise:
1/3 cup plus 1 tbsp mayonnaise
3 tbsp chopped mango chutney
2 tbsp fresh lemon juice
1 tsp snipped fresh chives
Salad:
3 cups bite-sized or thinly sliced cooked turkey or chicken
3 tbsp raisins or currants
1 cup red or green seedless grapes, cut in half
1 tbsp butter
1/3 cup slivered almonds
Assorted greens
1 ripe avocado, peeled and thinly sliced
Prepare the mayonnaise: In a small bowl, mix the mayonnaise, chutney, lemon juice, and chives.
Prepare the salad: In a large bowl, mix the turkey, currants, and grapes. Gently fold in the mayonnaise.
In a small skillet over moderate heat, melt the butter. Saute the almonds until lightly golden, about 4 minutes, stirring often so they don't burn, and drain on paper towels. Toss the almonds into the turkey salad.
Place the greens on a serving plate. Put the turkey salad in the center and fan the avocado slices around it.
Mango Meringue Pie
Flaky Pie Dough
3 tablespoons vegetable shortening
1 1/2 cups all-purpose flour
2 teaspoons granulated sugar
8 tablespoons cold unsalted butter, cut into pea-size bits
3 to 4 tablespoons ice water
Flatten the shortening between 2 sheets of wax paper to a thickness of 1/8 inch. Remove the top sheet and, with a butter knife, draw a crisscross pattern through the shortening to divide it into 1/2-inch squares. Freeze for at least 30 minutes.
In a large bowl, stir the flour and sugar together. Using a pastry blender, work the butter into the mixture until it resembles coarse meal. Quickly mix in the shortening squares. Sprinkle on the ice water and mix it in with your fingers just until the dough comes together into a ball. Wrap in plastic and refrigerate for at least 2 hours, or overnight.
On a lightly floured surface, roll the dough into a 12-inch circle about 1/2 inch thick. Fit it into a 9-inch pie plate. Fold the overhanging dough under itself and decoratively crimp it against the rim of the plate. Prick the bottom all over with a fork. Freeze for 30 minutes.
Set a rack in the middle of the oven and preheat to 400 degrees F. Line the pie shell with aluminum foil and weight down with dried beans or pie weights. Bake for 20 minutes. Remove the foil and weights, and bake for 8 minutes longer, or until very lightly browned. Transfer to a wire rack to cool.
Mango Curd
2 tablespoons cornstarch
2 tablespoons fresh lemon juice
3/4 cup water
2 large eggs
4 large egg yolks
3 ripe mangoes, peeled and sliced
4 tablespoons unsalted butter
1/2 cup granulated sugar
In a medium bowl, whisk the cornstarch, lemon juice, and 1/4 cup of the water together until smooth. Whisk in the eggs and yolks. Puree the mangoes with the remaining 1/1 cup water in a food processor fitted with the metal blade. In a medium size enamel or glass saucepan, combine the mango puree, butter, and sugar and bring to a boil over medium heat. Whisking constantly, slowly drizzle half of the hot liquid into the cornstarch mixture. Return the mixture to the saucepan and cook, whisking constantly and scraping the bottom of the pan, until tiny bubbles boil up for 10 seconds. Strain the curd through a fine mesh sieve into the pie shell. Let cool for 1 hour, then refrigerate until chilled and set.
Meringue
5 large egg whites
1/2 cup granulated sugar
1/4 teaspoon salt
Pinch of cream of tartar
Combine the egg whites, sugar, salt, and cream of tartar in a large dry bowl and set it over a saucepan of simmering water. Whisk constantly until the mixture is lukewarm. Remove from the heat and continue to whisk (you can switch to an electric mixer) until the egg whites hold stiff peaks. With the back of a spoon, spread the meringue on the top of the pie, making sure that the meringue touches the crust all around. Pull up wisps of meringue with the spoon as you go. Set the pie under a preheated broiler for 20 seconds, or pass the flame of a propane torch over the meringue, until lightly browned in spots.