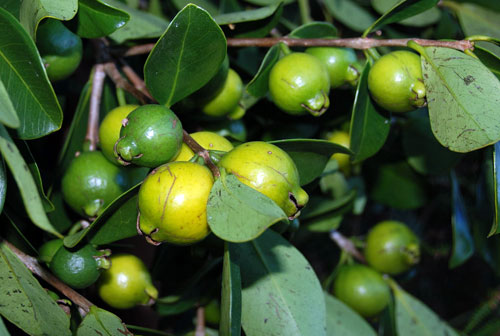 Guava is a fruit that many people know of, but have not tried to eat. For some reason, this tropical fruit is intimidating to shoppers because of the bright green colors and the hard exterior shell. Once you get into the fruit, you may also find the interior pretty intense. Let's take a better look at the wonderful world of guava.
What is It?
Part of the myrtle family, guavas are known for their pungent floral smells as well as their bright green foliage. This green fruit has very strong smell and taste, just like you would imagine a ripe lemon to have. The beauty of the pink inside lend itself well to decoration with other tropical foods. They are native to Central and South America as well as Mexico. Guava is now cultivated around the world and is domesticated in the United States.
History
Guava originally hailed from the tropical climate of Central and Southern America, probably Brazil. At the beginning of the 16th century the Portuguese introduced guava to the Philippines and eventually to India. There are documents from the early 1800s that show the Seminole Tribe of Northern Florida cultivating guava trees. Today guava is grown all over the world with most of the crop exported from the original cultivation in Central and Southern America.
Health Benefits
Guavas hold more health benefits than imaginable. They are an ideal food for weight loss and provide a wonderful resource for proteins, vitamins, and fiber. In addition to being incredibly high in dietary fiber and vitamins, guava does not have any cholesterol. For people watching their carbohydrate intake, guava has a lower carbohydrate count than other fruit. Guava also helps prevent scurvy, control diabetes, protect prostrate health, and even can treat hypertension.
Fun Fact
The leaves and wood of the guava tree are highly sought after. The wood is not used in the construction of homes or furniture, but rather for beautiful decorative purposes. Hand-carved knobs for drawers and accent pieces are where you will find most of the wood. The leaves are popular for their black dye which is used for fabrics and for medicinal purposes. In many countries, guava leaves can be made into herbal concoctions to provide gastrointestinal relief, heal minor wounds, ease toothaches, give relief for coughs, and even help control nausea during pregnancy.
How to Eat
Harvesting guavas can be a delicate process; the fruit is very tender and can bruise easily, so it is important to have a gentle touch and make sure they don't fall to the ground. Nets are placed around the trees, where the fruit is dropped into as the tree is shaken. Guava can be eaten raw and is a delicious addition to traditional and fruit salads. However, due to the strong fragrance and taste, guava is usually found in liquid form in nectar, juices, syrups or cooked in desserts. Guava flavored candy is also extremely popular, especially in the Latin cultures.
Most of us will probably not be shaking a guava tree to get a fresh guava. If you want to explore this fruit, you may want to start with one of the many drinks or desserts. Once you get hooked on the flavor, it may be worth your while to explore your local international grocery store for more.

Guava Recipes
Iced Guava Turnovers
1 package frozen puff pastry, thawed (1 pound)
a little white sugar to coat work surface
1 package cream cheese, divided in eight equal pieces (8-oz package)
8 1-inch squares guava paste (about 4 ounces)
1 egg, beaten in 1 tsp water
1 tsp milk
1/4 cup confectioners' sugar
1 tbsp white sugar
1/4 tsp vanilla extract
Preheat oven to 400 degrees F.
Sprinkle some sugar on a work surface to prevent puff pastry from sticking. Roll out each sheet of puff pastry to an 8 by 8-inch square.
Use a sharp knife or a pizza cutter to cut each sheet into 4 squares.
To form turnovers, set each pastry square on work surface. Place each cream cheese piece over the bottom center of the square, then top with one piece of guava paste.
Brush the edges of each square with beaten egg.
Fold the squares over the filling to make a nice triangle turnover shape. Crimp the edges with a fork and repeat for remaining turnovers.
Place on a baking sheet lined with parchment paper.
Bake for about 20 to 22 minutes, or until golden brown and puffy.
While the turnovers are baking, mix milk, confectioners' sugar, white sugar, and vanilla together, stirring to dissolve any lumps, then set aside.
Cool turnovers on a rack for about 15 minutes, then drizzle this icing over them. Makes eight servings.
Guava Glazed Pork Tenderloin With Cilantro Salsa
glaze:
1 tbsp canola oil
1 tbsp minced onion
1 minced garlic clove
1/2 cup water
3/4 cup chopped guava paste
1 tbsp ketchup
1 tsp cayenne pepper
1 tbsp soy sauce
Salt, to taste
Two 3/4-pound pork tenderloins
salsa:
1/2 cup cilantro, chopped
1/3 cup canola oil
1/4 cup white wine vinegar
1/4 cup diced sweet onion
2 tbsp chopped chives
2 jalapeños, minced
1 garlic clove, finely minced
salt to taste
Heat oil in a small saucepan, then add onion, cooking over medium heat just until onions are softened; add garlic and reduce heat to low.
Add water and guava paste and continue cooking and stirring until paste dissolves; about 5 minutes.
Stir in ketchup, cayenne, soy sauce until smooth, then salt to taste.
Set pork tenderloins in a glass baking dish and brush with half the guava glaze and let sit for 15 minutes.
Heat an indoor or outdoor grill pan and grill tenderloins about 15 to 20 minutes, turning and brushing with remaining glaze until brown on all sides and cooked through.
Transfer pork to a platter, cover with foil loosely and let stand for 10 minutes.
Prepare salsa by mixing cilantro, oil, vinegar, onion, chives, jalapeños, and garlic in a bowl, then season with salt if necessary.
Slice pork thinly and garnish with cilantro salsa.
Serves four.
Easy Guava Oatmeal Bars
1 cup light brown sugar, well-packed
2 cups flour
1/2 tsp baking soda
1/4 tsp salt
2 cups rolled oats
1 cup softened butter
14 oz or more guava paste
Preheat oven to 350 degrees F. Line 9x13 baking pan with parchment paper, then lightly spray paper with cooking oil.
Combine brown sugar, flour, baking soda, salt, and rolled oats in a large bowl.
Cut butter into dry mixture with a pastry blender until mixture is a crumb-like texture.
Press half this mixture into prepared baking pan.
Slice guava paste evenly to cover the crust, putting within 1/4 inch of the edge of crust in baking pan.
Sprinkle remaining crust mix over guava paste layer, then press down lightly with the back of a spatula or fork.
Bake in preheated oven for 35 to 40 minutes, until crust is light brown.
Cool in pan on a wire rack before cutting into bars.
Yields from 16 to 24 bars, depending on size cut.
Easiest Guava Dip
1 8-oz package Cream Cheese, softened
1/3 cup guava jelly
Using an electric mixer, beat cream cheese on medium speed until creamy, then add guava jelly and mix well.
Cover and refrigerate for several hours until chilled.
Serve as a spread with crackers or as a dip for assorted fresh fruit.
Guava-Swirled Cheesecake
1 2/3 cups sugar, divided
1 cup graham cracker crumbs
1 tablespoon butter, melted
Cooking spray
1/2 cup water
1/2 cup fresh lime juice
12 ounces guava paste, cut into small pieces
5 large egg whites, divided
1/2 cup reduced-fat sour cream
2 (8-ounce) packages 1/3-less-fat cream cheese, softened
1 1/2 teaspoons vanilla extract
1/8 teaspoon salt
Combine 1/3 cup sugar, crumbs, and butter. Press mixture into bottom and 1/2 inch up sides of a 9-inch spring form pan coated with cooking spray. Bake at 400° for 7 minutes. Cool on a wire rack.
Reduce oven temperature to 325°.
Combine 1/3 cup sugar, 1/2 cup water, juice, and guava paste in a small saucepan; bring to a boil. Reduce heat, and simmer 5 minutes, stirring occasionally. Cool slightly. Pour mixture into a blender, and process until smooth. Cool completely. Stir in 1 egg white.
Combine remaining 1 cup sugar, sour cream, and cheese in a medium bowl; beat with a mixer at low speed until smooth. Beat in vanilla and salt. Gradually add remaining 4 egg whites, beating well after each addition. Pour cheese mixture into prepared pan. Drizzle guava mixture over cheese mixture; swirl mixtures using the tip of a knife. Bake at 325° for 45 minutes or until cheesecake center barely moves when touched.
Turn oven off; cool cheesecake in closed oven 30 minutes. Remove cheesecake from oven. Run a knife around outside edge. Cool to room temperature. Cover and chill at least 8 hours before serving.