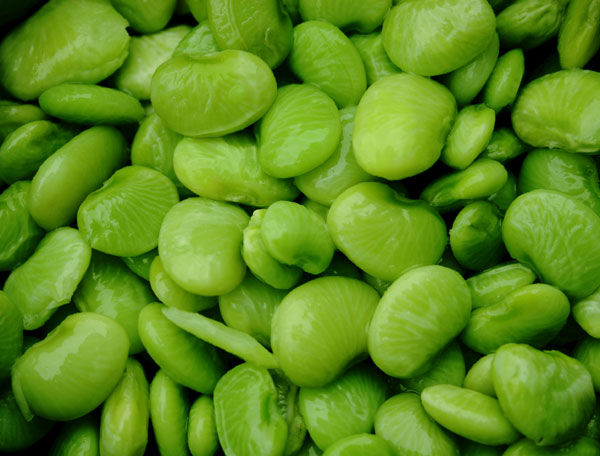 Lima beans are the stuff of childhood dinnertime tantrums. And while you may not have liked lima beans as a child, they deserve a second look. They are in fact, quite nutritious and their soft buttery flavor is widely appealing.
What is it?
The lima bean is also known as the butter bean. It's called a butter bean because of the soft buttery texture and flavor it hides beneath a flat and oblong shape.
The lima bean comes inside a long three inch pod. Each pod contains between two and four lima beans. The beans are generally shaped like a kidney and are pale green in color. Some people think that the lima bean tastes a lot like a potato. Explorers in South America brought the beans to Europe and Asia.
They were introduced in Africa and eventually made their way to the United States. Lima beans began being cultivated in the U.S. in the 19th century. The majority of lima beans grown in the U.S. are grown in California. They do require a warm and humid climate, making California an ideal location.
Health Benefits
Lima beans are high in tryptophan. That's the same ingredient in turkey and milk that makes people feel sleepy. It's an essential amino acid that is required for optimal bodily function.
Lima beans are also high in protein, folate, iron and fiber. They contain the element, molybdenum, which helps your body process sulfites. If you're sensitive or allergic to sulfites you may reduce your symptoms by eating lima beans. One cup of cooked lima beans provides 13 grams of fiber – more than 50% of the recommended daily value. That same cup of cooked lima beans also has just over 200 calories.
Fun Fact
Lima beans contain poisonous cyanide compounds. In fact, lima beans grown in Burma have almost 30 times the amount of these compounds that are allowed in many other countries. In the U.S. and several other western countries, only low cyanogens level lima beans can be grown.
How to Eat
The most notable lima bean recipe is succotash. It's a Native American recipe that still remains quite popular today. Lima beans can also be enjoyed steamed and fresh from the pod like edamame. They're also often pureed and flavored with spices, garlic, and onions to make a hummus like dip. They're also spectacular when added to soups. Lima beans are rich in protein and when consumed with rice provide a complete protein for your body. You can eat lima beans and rice instead of meat for a low fat protein rich meal.
While lima beans may not have been a childhood favorite you may be surprised how tasty they are as an adult. Their delicate flavor and soft buttery texture make them a delightful addition to soups and stews. Eaten alone or in a dish with other vegetables and beans the buttery lima bean is a nutritious choice.
Lima Beans Recipes
Succotash
1 cup butter, divided
2 cups fresh lima beans
½ teaspoon salt               
4 fresh tomatoes, peeled and chopped
2 teaspoons white sugar
4 ears fresh corn kernels, cut from the cob
Melt ½ cup butter in a large saucepan over medium heat. Stir in lima beans and salt, and cook until tender, about 20 minutes.
Meanwhile, in a separate saucepan heat tomatoes, sugar and remaining ½ cup butter. Cook until tomatoes are tender, about 20 minutes.
Stir tomatoes into lima beans and add corn; cook 10 minutes more.
Creole Lima Beans
1 can (14.5 ounces) stewed tomatoes
12 to 16 ounces baby lima beans
½ cup chopped celery
1 teaspoon Creole seasoning blend
Combine the tomatoes, lima beans, celery, and seasoning in a saucepan. Bring to a boil.
Reduce heat, cover, and simmer for 8 to 10 minutes, until the beans are tender.
Baked Lima Beans with Spinach and Feta
½ pound cooked large lima beans
2 tablespoons olive oil
2 garlic cloves, minced
1 pound baby spinach
¼ cup chopped fresh dill
1 tablespoon snipped chives
2 ounces crumbled feta cheese
Preheat the oven to 350 degrees.
Cook the beans according to the directions. Remove from the heat, and drain. Transfer to a lightly oiled baking dish, and add 1 cup of the broth.
Heat a large skillet over high heat, and wilt the spinach. Drain and rinse with cold water. Squeeze out excess water and chop coarsely.
Heat 1 tablespoon of the olive oil over medium heat in skillet and add garlic. Add spinach, dill and chives. Stir together until ingredients are combined.
Remove from the heat. Season to taste with salt and pepper.
Spread the spinach in an even layer over the beans. Sprinkle the feta over the spinach, and drizzle on the remaining tablespoon of olive oil. Bake 30 minutes until sizzling. Serve hot or warm.
Baby Lima Beans and Bacon
½ package baby lima beans
2 slices bacon
6 coarsely chopped fresh mint leaves
Prepare lima beans according to directions.
Cut bacon into ¼" cubes. Saute in a skillet until almost crisp.
Add beans, stir gently and cook over low heat for 2 minutes.
Add chopped mint leaves, stir and serve.
Lima Bean and Ham Stew

3 ham hocks
1 pound of lima beans
3 cups of chicken broth
3 cups of water
2 garlic cloves
2 onions
1 cup of celery, diced
1 cup of carrots, sliced
1 bay leaves
Rinse lima beans well. Cover with about 8 cups water. Bring to a boil, cover and boil 2 minutes. Remove from heat, keep covered and allow to stand for 1 hour or more.
While lima beans are soaking, prepare the ham hocks. Combine the 3 cups broth and 3 cups water in a large heavy pan with lid; bring to a boil. Add the ham and simmer for about 1 hour.
Drain the beans, running hot water over briefly to rinse. Add to the ham mixture.
Slice the onions and separate into rings. Add the onions, along with the carrots, celery, and bay leaf, to the pot. Mince the garlic cloves; add to mixture. Add ground black pepper and salt. Pour broth or hot water over mixture to reach about 1 inch above the ingredients.
Simmer for about 1 hour, stirring several times, checking to see if you need to add more liquid.
After beans and vegetables are tender, remove the ham hocks or bone. Remove the meat from bones and add back to the bean mixture.