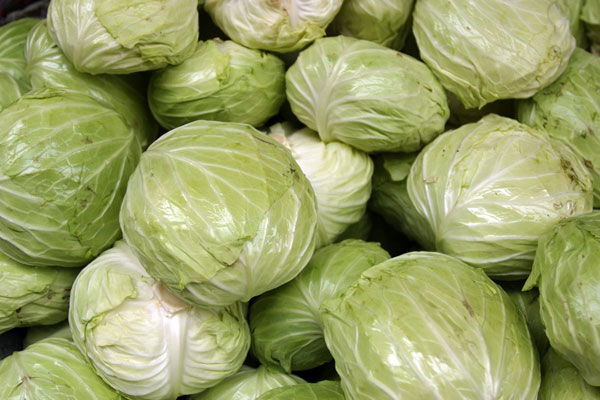 Cabbage is a vegetable that is used all around the globe. Germans make sauerkraut with it. The Koreans make Kimchi. And in the Middle East, cabbage rolls are a delicacy. This simple vegetable can be prepared in hundreds of ways and it's packed with health benefits and essential nutrients. Let's take a look at this splendid veggie that surpasses all others.
What Is It?
The cabbage is a cruciferous vegetable. It's in the same family as broccoli. Brussels sprouts, kale, collard greens and cauliflower are also in this same vegetable family. Veggies in this group are high in vitamin K which is essential for bone growth and development and has been shown to prevent certain types of cancer.
The cabbage actually comes in a number of varieties, including Savoy cabbage, Napa cabbage and the beautiful red cabbage. It's a biennial plant which means it takes two years to complete its lifecycle. The cabbage is also a flowering plant.
History
The cabbage is believed to have been derived from the wild mustard plant which grew in the Mediterranean. Historians believe that the ancient Greeks and Romans enjoyed a cabbage variety that was also commonly used for medicinal purposes. Today's cabbage is the result of many years of selective breeding.
Scientists and farmers work to create a densely packed, round and leafy head of cabbage that tastes great and is resistant to pests and disease. China, India, and Russia are the world's leading producers of cabbage.
Health Benefits
As mentioned, cabbage is high in vitamin K. In fact, one cup of raw cabbage provides more than 60% of the recommended daily allowance. It also provides more than 40% of vitamin C. You'll also enjoy the benefits of vitamin B, potassium, calcium, folate and fiber. And that same vitamin packed cup of cabbage is low in calories, around seventeen calories to be exact. It is rich in antioxidants, has anti-inflammatory properties, and can lower cholesterol.
Fun Facts
The word cabbage is often used as a slang term in many countries. Both in England and in Russia it's used as a slang term for money. And in some countries the term "cabbage head" is used to imply that someone isn't smart.
How to Eat
One of the simplest ways to eat cabbage is raw. You can simply chop it up and add a bit of mayonnaise or vinegar and oil to make coleslaw. Cabbage is also commonly added to soups and stews. Cabbage rolls are a very popular dish in Eastern Europe and the Middle East. Cabbage is also often pickled. Kimchi is a spicy Korean dish made with cabbage. Napa cabbage is a crunchy addition to any stir fry as well.
There are so many varieties of cabbage it's easy to find a dish and a variety that you like. Experts recommend eating cruciferous veggies like cabbage at least three times a week. Whether you enjoy Cole slaw or kimchi, cabbage is tasty and good for you, too.
Cabbage Recipes
Cabbage Rolls with Sour Cream Sauce
2 cups leftover meat or ground beef
salt and pepper
1/4 cup diced onion
1/2 cup diced celery
1 cup cooked rice
1 teaspoon horseradish
1 tablespoon prepared mustard
1 egg, well beaten
6 large cabbage leaves
1/4 cup tomato puree
1/2 cup water
1 cup sour cream
Heat oven to 350 degrees F.
Brown meat and onion in a heavy skillet over low heat. Remove from heat. Mix in thoroughly celery, rice, horseradish, mustard and egg. Cook cabbage leaves for 3 minutes in boiling salted water.
Place meat mixture on cabbage leaves. Roll and fasten with toothpicks. Place close together in greased baking dish. Pour tomato puree and water over cabbage rolls. Cover and bake 30 minutes.
Remove cabbage rolls. Pour sour cream into liquid remaining in baking dish. Serve over cabbage rolls.
Cabbage and Carrot Salad
Cabbage (as much as desired)
Carrots (as much as desired)
Lemon juice or vinegar
Olive oil
Wash the cabbage and slice it as thin as you can. Wash and grate the carrots. Mix carrots and cabbage in a bowl, add olive oil, salt and finally pour vinegar or lemon juice. Make sure to try both versions!
Cabbage Rice
1 medium cabbage
1 teacup rice
Olive oil
1 onion
3 fresh tomatoes, mashed
Lemon juice of one lemon
Salt
Pepper
Wash the cabbage and cut it in slices. Use a medium size saucepan. Add the onion and saute oil. Add the slices of cabbage and stir. Add 2 cups of water. Add the fresh tomato paste and stir again. Cook for 10 minutes and then add the rice. Cook until the rice is ready and the water is absorbed. Add salt and pepper as you wish. Cabbage rice is served either hot or cold with some lemon juice poured on top.
Corned Beef and Cabbage Casserole
2 pounds chopped cabbage
1 (12 ounce) can corned beef, diced
1 can Cheddar cheese soup
1 (5 1/3 ounce) can evaporated milk
3 tablespoons onion, grated
1 teaspoon mustard
1/2 teaspoon salt
4 slices bread (in cubes)
2 tablespoons melted butter
4 slices American cheese
Cook cabbage in small amount of water 5 to 8 minutes or until tender; drain well.
Arrange alternate layers of cabbage and corned beef in shallow 2-quart casserole.
Combine soup, evaporated milk, onion, mustard and salt; stir well. Pour over corned beef and cabbage. Toss bread cubes with melted butter; arrangearound edge of casserole. Bake at 350 degrees F for 45 minutes.
Arrange American cheese over center of casserole. Return to oven for 5 minutes.
Greek Red Cabbage Salad
1 medium head red cabbage
1/2 medium size red onion
1/2 cup greek olives (kalamata or other type)
3/4 to 1 cup crumbled feta cheese
juice of one lemon or to taste
1/3 cup olive oil or to taste
1 t greek oregano
salt, pepper to taste
Cut red cabbage to medium size pieces (not chunks but not like slaw either) Chop red onion finely and add to cabbage. Add lemon juice, oil, pepper, salt, and oregano, and mix well.
The cheese, and olives can either be arranged over the top or mixed in; I prefer to arrange them and mix them as it is served, otherwise the cheese turns pink from the cabbage.
Cabbage Beef Soup
2 tablespoons vegetable oil
1 pound ground beef
1/2 large onion, chopped
5 cups chopped cabbage
2 (16 ounce) cans red kidney beans, drained
2 cups water
24 ounces tomato sauce
4 beef bouillon cubes
1 1/2 teaspoons ground cumin
1 teaspoon salt
1 teaspoon pepper
Heat oil in a large stockpot over medium high heat. Add ground beef and onion, and cook until beef is well browned and crumbled. Drain fat, and transfer beef to a slow cooker. Add cabbage, kidney beans, water, tomato sauce, bouillon, cumin, salt, and pepper. Stir to dissolve bouillon, and cover.
Cook on high setting for 4 hours, or on low setting for 6 to 8 hours. Stir occasionally. Enjoy!